A website dedicated to athletics literature

/ Athletics of To-Day
Athletics of To-Day
Harold [Ernest] Graham, "Athletics of To-Day", 1901
With contributions by - C.R. Thomas, Alan Hunter, R.R.Conway, G.C. Vassall, W.G. Paget-Tomlinson, J. Edwards-Moss, E.L. Gay-Roberts and A.R.Welsh.
The author: H.E. Graham was born on 31 January 1877 at Clifton, Bristol and then went to Rossall School on the Lancashire coast near Fleetwood, at just about the time that the school received its Royal Charter.  It was always a good school and by the 1890s had earned itself the label, the Eton of the north.  It was whilst he was at Rossall that Graham became a miler. 
In the summer of 1896 he left Rossall and, in October, matriculated at Jesus College, Cambridge, and within three weeks had competed in the Freshman Sports and won the 1-Mile.  H.E. Graham threw himself into sport at Cambridge and, only ten days later, entered the Peterhouse Sports and won the Half-Mile Stranger's Handicap (he was given 20yds, but seems to have been the back-marker).  He won by two yards in 2m 0 3/5s (equivalent to 2m 2.8s, 880?), but he was still convinced that he was a miler.  A few days later, Jesus College held their own Sports in which he was 2nd in the 300yds Boating Men's Handicap (he was off 4yds, and lost by 4yds to a man off 20yds).  So, within a month, Freshman Graham had run in three athletics meetings, indicating to everyone that he had arrived and intended to make his mark. 
And make his mark he did.  In March 1897, he competed in the Cambridge University Sports, finishing 3rd in the 1-Mile, and the following week was selected to run for Cambridge against London Athletic Club, for whom a trip to Cambridge was an annual fixture.  He was 4th in their match but the 2nd Cambridge man home, so in April was selected to run for Cambridge in the 1-Mile in the Inter-Varsity Sports, just six months after arriving at Cambridge.  He finished third.  The following year (1898), he finished third again, and it was only when he switched to the Half-Mile in 1899 that he was able to win. 
H.E. Graham was never a great athlete, but he was an enthusiastic and committed one.  Each year he trained hard, always entered the trials, ran in his college sports, and in the Strangers' Races in other colleges' sports, ran for the university against London Athletic Club, ran in university handicaps too, and trained with the Hares & Hounds; and in March 1898 extended his athletic education by travelling to London to take part in the LAC's Spring Meeting. 
At the beginning of his 3rd year, in October, 1898, H.E. Graham decided to broaden his interests and went up early to take part in rowing trials for his college; he rowed in Coxed Fours, coached by A.W. Swanston, who had rowed at No. 5 in the Cambridge Eight in the Inter-Varsity Boat race earlier in the year (and lost); it was H.E. Graham's first experience of a coach.  Later he tried out for the Cambridge Eight himself, but was unsuccessful. 
Although H.E. Graham was an enthusiastic athlete at Cambridge, he was studying medicine and in December passed his chemistry exams.  He was awarded his BA en route to his medical qualifications, and was successful in the next round of medical exams, later, in the summer of 1899. 
Honest endeavour though all this might be, can I be excused for thinking that it hardly rises above the mundane?  These achievements will have been matched by many other students, before and since.  But all this changed in the spring of 1899 when Graham won the in-Cambridge University Trials; and also won the Half-Mile at the University Sports, so was selected for that event in the Inter-Varsity Match in March 1899, an event he went on to win by seven yards.  This in turn led him to be selected for the combined Oxford and Cambridge team that took on Harvard and Yale at the Queen's Club in July, which Graham won, unexpectedly, by 12 yards in a PB of 1m 57 1/5s.  Graham was at once a sporting star!
By this time, however, H.E. Graham's studies had taken him to St Bartholomew's Hospital in London, although he was still a matriculated Cambridge University student, and so in the summer of 1899 H.E. Graham was able to enter Inter-Hospital competitions as well as college and inter-varsity events.  In July 1899 he won the Half-Mile in the Inter-Hospitals' Challenge Shield in a new record of 1m 59 2/5s, and travelled to Dublin to run for the London Hospitals against Dublin University, where he won the Half-Mile by half-a-yard, easing up. 
In 1900 he followed much the same pattern as before, and again won the Inter-Varsity Half-Mile, this time by five yards; but he began to branch out a little and in June ran in the Guildford Amateur Athletic Club Annual Sports, winning the "Half-Mile Championship of Surrey", but in a slow time.  In July he entered the Half-Mile in the AAA Championships, qualifying in his heat in 2nd place behind J.F. Cregan from Princeton, but in front of H.H. Lord from Chicago University; in the final, he led at the bell but finished nowhere. 
His studies limited his early season in 1901 and he did not take part in the Inter-Varsity Sports, but in May he ran the Half-Mile for Cambridge against LAC (and was 2nd), and he won LAC's 1,000 yards Challenge Cup in 2m 20 4/5s.  By this time he was also a member of the LAC.  In the winter he ran Cross-Country with Thames Valley Harriers.  In June 1901 he travelled to Guildford again, and won "the mile championship of Surrey", so added the Surrey county 1-Mile title to the Half-mile he had won the previous year.  He also won the Challenge Cup for the Half-mile in the LAC's Summer Meeting.
In mid-summer, however, he turned away from athletics for a while and took up rowing again, and competed in a string of regattas on the Thames, at Kingston, Staines, Reading and elsewhere; and it was at this juncture that he decided to write  Athletics of To-Day. 
From internal evidence, Athletics of To-Day was published sometime between the end of March and the end of September 1901.  Graham was an experienced and successful university athlete, but was still only 24 years old, and still a Cambridge student studying medicine and based for much of the year at St Bartholomew's Hospital in Smithfield, London. 
He continued to compete for St Bart's in 1902, winning the Half-Mile and 1-Mile in the United Hospitals Sports, though "short of practice".  He seems to have taken the year off from athletics in 1903 to concentrate on his medical studies, but was seen on the river a few times.  In 1904 he was back again though, and ran in the St Bart's sports, but "failed to secure a prize".  Nevertheless, he travelled to Dublin in September and ran a 1-Mile race in a field of three at the St Andrews College Athletic Union Sports, and won easily.  This seems to have been his final race.
In December 1904 he passed the final part (surgery, midwifery and medicine) of his medical examinations, and in May 1905 he was admitted to the Royal College of Physicians.  He then went to Cirencester to practice medicine and we see him in 1907 making his mark on local athletics by acting as the starter in the Cirencester Grammar School Sports.  He was married by then, and his wife took the town by storm with her singing and acting on the amateur theatrical stage.  They were to have three daughters. 
The busy life as a doctor in a country town continued until 1914 when the mobilisation of Reservists and Territorials left huge gaps in the local Red Cross Society of which Dr Graham was Superintendant; and so he immediately set about training up new recruits, and by 15 August 1914 he had 100 young men in training in Lord Bathurst's Park.  They were said to be "the largest and most efficient detachment in the country"; this was only eleven days after Britain had declared war on Germany.  He threw himself into local war work, setting up local Voluntary Aid Detachments, supervising and training the local Red Cross, helping in the setting up of a rifle range, helping with the Boys Brigade, and much more.  In February 1917, however, he was appointed Temporary Lieutenant in Royal Army Medical Corps and left Cirencester for France in the spring.
Dr H.E. Graham survived the war and returned to Cirencester and successfully picked up the threads of his old life, but he resigned through ill health at the age of 58, and died in 1945 at the age 68. 

One can only guess at Graham's motives in writing Athletics of To-day.  He laments the absence of athletics coaches at Cambridge and his only experience of an athletics coach was probably in the days before the Oxford-Cambridge/Harvard-Yale match in 1899, when C.N. Jackson gave the team advice for a few days at Eastbourne.  Otherwise, his only experience of personal coaching was in rowing when his boat was coached by A.W. Swanston, but he (Swanson) was little more than one of the boys, having matriculated just one year ahead of H.E. Graham. 
Perhaps his book was intended to fill the gap and give advice to those who otherwise wouldn't get any.  But he didn't do it alone; he recruited six others to give technical and specialist advice, and three others to write about selected Public Schools.
The six writers he recruited had a lot in common; four were from Cambridge and one from Oxford, and Graham had been on teams and run with them all - 
C.R. Thomas (Jesus College, Oxford) provided five-and-a-half pages on the 100yds and was well qualified to do so, having won the Inter-Varsity 100yds in three consecutive years (1898, 1899, and 1900), and was 2nd once (1897).  He was also in the Oxford/Cambridge team that took on Harvard/Yale in 1899, finishing 2nd.
Alan Hunter (Trinity College, Cambridge) provided a chapter on "The Mile Race".  He had won the Inter-Varsity 1-Mile in 1899 and was 2nd in 1898; and in 1899 had won the 1-Mile in the Oxford/Cambridge-Harvard/Yale match.
W.H. Workman (Pembroke College, Cambridge) provided an eight page insert on "Long-Distance Running".  He had won the Inter-varsity 3-Mile Race in three consecutive years (1899, 1900, and 1901) and in 1899 had won the 3-Miles in the Oxford/Cambridge-Harvard/Yale match.  He also won the Half-Mile in the Harvard/Yale-Oxford/Cambridge match in New York, in September 1901.
R.R. Conway (St Catherine's College, Cambridge) provided thirteen pages on Cross-Country Running.  He had been a classics scholar and a keen debater as an undergraduate, but he was above all else a cross-country runner and was a member of the winning Cambridge University teams against Oxford University, in 1883 and 1884.  He also ran in the Inter-Varsity 1-Mile in 1884, finishing fourth; but this was some 12 years before Graham matriculated, so he was senior to Graham and all the other contributors.  In looking for a contributor to write on Cross-Country, it would been almost impossible to have gone to anyone else; in May 1898, Conway had written a piece on Cross-Country Running for the Badminton Magazine, and in 1899 he had written a chapter on cross-country running in W.B. Thomas's Athletics (part of The Isthmian Library).  So dominant was he in cross-country at Cambridge that he was not only President of Cambridge University Hares & Hounds, but President of Cambridge Town and County Cross Country Union too; so was President of both town and gown, and even organised competitions between the two.  On leaving the university, he had stayed in the city and taken up a teaching position at the local Perse Grammar School.  He was also a keen cricketer.
G.C. Vassall (Oriel College, Oxford) provided five pages on Long Jumping, and was the outstanding university long jumper of his age, having won the Inter-Varsity long jump competition for three consecutive years (1897 - 22ft 7in - 6.88m; 1898 - 22ft 5½in - 6.85m; 1899 - 23ft 3in - 7.09m).  He had been 2nd in 1896, his first year at university.  He was runner-up in the AAA Championships Long Jump in 1898, and won the Long-Jump in the Oxford/Cambridge-Harvard/Yale match in 1899, with 23ft - 7.01m.  He was also a footballer, playing in the winning team in the Inter-Varsity match in 1896 and in 1897, but losing in 1898, 1899.
W.G. Paget-Tomlinson (Trinity Hall, Cambridge) contributed three pages on hurdle racing, i.e. high-hurdling.  He was 3rd in the Inter-Varsity 120yds Hurdles in 1897, 2nd in 1898, and won in 1899 and 1900.  He was AAA Champion in 1899, and was 2nd in the Oxford/Cambridge-Harvard/Yale match in 1899.  He was also a High Jumper, finishing 2nd in the Inter-Varsity Match in 1898 and 1899, and 3rd in 1900. 
The book concludes with a short chapter on Athletics in the Public Schools.  To get the authentic, up-to-date view, Graham approached two boys/young men who were in their last year at school, indeed, in their last few weeks.  One was John Edwards-Moss, who was at Eton, and the other was Edmund Lionel Gay-Roberts, who was at Rugby.  They must have penned their contributions during their last few weeks at school, or in the summer holidays at the latest, before they went on to university. 
Gay-Roberts at Rugby, however, recruited a boy a year below him at school, and they jointly wrote the entry on athletics at Rugby School.  This even younger boy was Anthony Reginald Welsh, who was only seventeen and so is the youngest contributor to the Athlos collection; and was still a schoolboy when the book was published.
John Edwards-Moss contributed a page and a half on athletics at Eton.  He was, however, a rower and was Captain of the Boats when Graham approached him.  Edwards-Moss came from a rowing family and his father and grandfather (plus an uncle) had all preceded him as Captain of the Boats at Eton.
On leaving Eton, he matriculated at Trinity College, Cambridge in the autumn of 1901 and went on to row in Cambridge University's winning crews in the Inter-Varsity Boat Race in 1902, and 1903. 
Edmund Lionel Gay-Roberts and Anthony Reginald Welsh jointly wrote four and a half pages on Athletics at Rugby. 
E.L. Gay-Roberts had won the Crick Run at Rugby in 1899, and went up to Queen's College, Oxford, in the autumn of 1901.  He ran in the winning Oxford team in the Inter-Varsity Cross-Country Match of 1901 and 1902, and won the 1-Mile in the Inter-Varsity Sports in 1902, and was 2nd in 1903; in which year he also ran in the 3-Miles.  He also played rugby football, golf and lawn tennis.
As mentioned above, A.R. Welsh is the youngest of our contributors, andwould, perhaps, warrant only a brief biographical note, but his story deserves more detail as a mark of respect, and because it reminds us of the horrors that were to face his generation. 
Anthony Reginald Welsh was born in Altrincham, Cheshire (now Trafford in Manchester) on 27 December 1883.  At the age of twelve, he entered Rugby on a Scholarship and immediately impressed all with his academic ability and application.  At the end of his first year at Rugby (1897) he was placed first in Classics, first in Modern Languages and third in Mathematics; and also excelled in Science and was an enthusiastic botanist.
Welsh was one of those boys who was an outstanding scholar and an outstanding athlete, and he was a member of the Rugby Running VIII in 1900, 1901 and 1902, and Captain in his last year.  He was tall and rangy, and won the Crick Run twice (in 1901 and 1902), breaking the old record by 2½ minutes in 1901, and the following year running the second fastest time ever, beaten only by his  own time the previous year; and, not surprisingly, he was awarded the Athletic Cup in 1902.  It was shortly after his first Crick Run victory that he was approached by Gay-Roberts (in the year above him at school) to help him write the section on Athletics at Rugby for Graham's book. 
Welsh was one of the stars of his generation; he won the first General Exhibition in 1902 when he left Rugby and went up to Trinity College, Cambridge with a Major Classical Scholarship.  At Cambridge he was in the First Class in the Classical Tripos of 1904, and in the Second Class in the Mechanical Science Tripos of 1906.
He was no less successful in his athletics, being a member of Cambridge's winning team in the Inter-Varsity Cross-Country Match for three consecutive years - 1903, 1904 and 1905.  He also won the Inter-Varsity 1-Mile in 1906 (4:21 1/5s, winning by 40 yards) having come 3rd in 1904, and was 2nd in the 3-Miles in 1906 in the same afternoon as his 1-Mile victory, and in "wretched weather" and continuous rain.
After taking his degree, Welsh worked for a while as a research assistant to Bertram Hopkinson (Professor of Mechanism and Applied Mechanics at Cambridge University), working primarily on the gas-engine.  Prof. Hopkinson was also an early designer of the internal combustion engine.
After Cambridge, in 1907, Welsh joined the staff of Messrs Mather and Platt, of Manchester, a major, and ambitious, engineering company with links all over the world, where he was at first engaged in the erecting shop and drawing-office, at their Salford Iron Works.  Mather and Platt's first machine shop was originally the Machinery Annexe of the Paris Exhibition in 1900.  The company then dismantled it and shipped it to Manchester via the Manchester Ship canal, then re-erected it.  
In 1908-9 Mather and Platt sent Welsh to Canada to erect and run a steam-turbine installation at the Montreal Water Works.  After it was completed in 1909 he was sent to India to be in charge of the installation of two gas-engine alternators for the East India Railways at Giridih, in Bengal.  In March 1911, however, he was invalided back home, but he had recovered his health by the summer when he was appointed Assistant Secretary to Messrs Bell Bros. Ltd, of Middlesborough, who were ironmasters.  In 1911, he was elected an Associate Member of this Institution of Mechanical Engineers.  By 1913 he was Secretary of Bell Bros - equivalent in 2016 terms to its CEO. 
War broke out on 4th August 1914, and in September he was commissioned as a 2nd Lieutenant in the 4th Yorkshire Regiment; in April 1915 he went with them to the Front in France.  He took part in the Second Battle of Ypres and received a head-wound on May 3rd, and another on June 22nd, but each time returned to duty.  At the end of May he had been promoted to Lieutenant, and was mentioned in Despatches of November 30th, 1915. 
He was wounded for the third time in the Ypres Salient on February 16th, 1916, this time by a trench mortar bomb, and died of his wounds in hospital at Boulogne-sur-Mer, on February 19th 1916.  He was buried in the Boulogne Cemetery
n April 1915 the officers of the 4th Battalion of the Yorkshire Regiment had been photographed before leaving for France.  2nd Lt. A. R. Welsh is in the back row, second from the right.  Of the seven men in the back row, five would be dead, killed in action, within two years; one, before the month was out.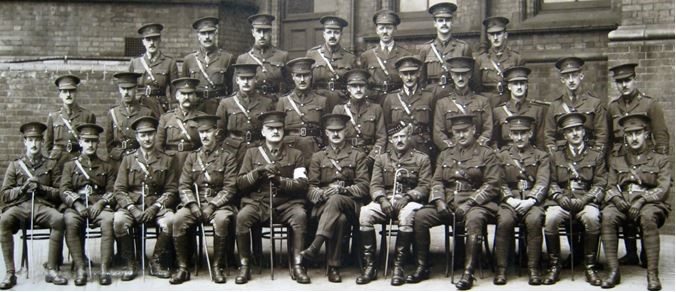 The short, optimistic notes about athletics in his school, printed by Harold Graham in his slim book about Athletics of To-Day, and written by a schoolboy just seventeen years of age, held so much promise.  Anthony R. Welsh was already recognised as a gifted athlete and scholar when he contributed his piece for Harold Graham's book, but like so many others, his life was cut short by war; he was only 32 year of age. 
This brief biographical note is a reminder of the tragic future that awaited so many young athletes of this era, and is a small attempt to make sure that their lives are not forgotten.
The place of Graham's "Athletics of To-Day" in the history of Athletics literature:
Although only a small book, Athletics of Today probably takes the reader more successfully into the world of British university athletics at the turn of the 19th/20th century than any other.  One might expect this to be a book about coaching, but it isn't; Graham makes it clear that the only athletics coaching in British universities was at Oxford where C.N. Jackson "devoted his spare time to superintending the health and training of the Oxford team".  Even that hardly sounds like coaching; for the rest, "the art of athletic teaching is never studied, and is practically unknown."  The athletes survived by trial and error, watching others, reading what they could, and passing on information and advice to each other.  This, then, is what we find here - word-of-mouth advice from the athletes of the day to others who would otherwise have had no advice at all. 
We quickly learn, however, to be wary about what words mean; when we read that there is a general misconception about what practice and training are, we know we have to pay attention.  The only training that a young man requires, we are told, is to avoid alcohol, smoking, cakes and new bread!  Practice is another thing!
There is something of a mystery about Athletics of To-Day and the man who wrote it.  Anyone reading this will probably have read the biography of H.E. Graham (above), but did the average reader in 1901 know this?  According to the cover and title page, Athletics of To-Day is by Harold Graham, but he almost never went by that name in his lifetime.  At school he was H.E. Graham.  He matriculated at university as H.E. Graham.  He entered all his competitions as H. E. Graham, and his results were always reported under the name H.E. Graham.  His examination results were always listed under H.E. Graham.  Later he was Dr. H.E Graham, and Lt. H.E. Graham, so why did he call himself Harold Graham for this book?  Would the public have automatically known that it was written by H.E. Graham the runner?  Would a book by William Grace be immediately recognised as being by the famous W.G. Grace?  Or a book by Charles Fry by the famous C.B. Fry?  Perhaps they would, but it does seem odd.
Nowhere in the book does Harold Graham give even the slightest hint that he was the successful Cambridge athlete, or that he has first-hand information about the events he describes.
His first-hand experience of the topics in his book is, for us, one of its strengths.  He writes about International Athletics, and the match at Queen's Club between Oxford/Cambridge and Yale/Harvard in 1899 - he knows about that event because he ran in it.  He writes about the London Athletic Club meetings in London - he knows about them too, because he ran in them.  When he wrote that the track at Stamford Bridge was "generally very loose and crumbles a good deal" just where the runners turn into the home-straight, it was because he had run on it and experienced it for himself.  When he wrote of athletics in the London Hospitals, once again, he knew what he was talking about because he ran in those competitions, and so on . . .  But the uninitiated reader would not know any of that; H.E. Graham (aka Harold Graham) never reveals it.
There are some wonderful details (trivia?) here that are hard to find anywhere else, but which bring this world to life.  For example, you could buy a really good pair of running shoes at your club for 12 or 13 shillings [equivalent in purchasing power to £59-£64 in 2015].  The best shoemaker in London was Baines of St. John's Wood, who supplied most of the LAC members, and a shoemaker named Tuck made a good soft shoe, and you could get them from Benetfink in Cheapside (they sold almost everything!).  Wilkinson and Jack White were the best starters.  The tents that athletes changed in stank of embrocation.  We already knew that this was the age before tracksuits and here I learned that the long overcoats that the athletes are sometimes seen wearing in old photographs were not merely the fashion of the day, they were the coats that racquet players wore after a hard game, made of "some thick white woollen material", and which stretched right to the ground.  Athletes were encouraged to wear one, but an overcoat could be used at a pinch.  .
This was a very different world from the one we know, and it takes some getting used to.  For example, there was a "quite perceptible hill" on the Oxford University track, and also "a slight one" at Cambridge.  The long jump approach at the Queen's Club had a "large excavation" between the take-off board and the pit, and the High Hurdles were always run on grass down the middle of the track, and not on the track. 
But there were innovators and new ideas. The groundsman at Fenner's had invented a mixture of oil and clay for the Long Jump landing area that gave "a splendid clean cut, without crumble"; I wonder what happened to that!  At Queen's Club they had experimented with a machine to help decide the winner in sprint races.  "The runners were to finish beneath four doorways, each one to have a tape to himself.  The first tapes that were broken let down the number of the winners on a dial overhead."  New ideas and innovations were everywhere, and there was a clear dissatisfaction with much of the status quo. 
Some of the advice, however, seems odd at first.  Graham writes that "it is not unknown for a man in a mile race to suddenly start sprinting in the third lap and finish to his own satisfaction an easy winner - and then find he has made a mistake and has to go another lap."!  How very strange.  Has anyone reading this ever seen that?  These were bright intelligent men - why could they not count to four?  But here again, Graham writes from personal experience; he had once done precisely that.  The explanation lies in his text.  Stamford Bridge was four laps to the mile.  Many others were three laps to the mile.  At Fenner's you ran the wrong way round.  At Queen's Club, "the quarter track consists of three straights with two corners, the first of which is a bend practically at right angles".  Fenner's also had three straights, but the sharp corner came later.  At Stamford Bridge, "the start is absolutely around a half circle"; perhaps running on all these different tracks with different lengths, shapes, and even different directions of running, was disorientating.  It was, indeed a very different athletic world from our own.
The text:
Athletics of To-Day is a small pocket-sized book.  It is not known how many copies were printed, but it is likely to be a relatively small number, and it was not widely reviewed if at all.  It was part of Ward, Lock & Co.'s shilling Popular Handbooks.  On the cover is an image of H.E. Graham winning the Inter-Varsity half-mile in 1900 (in 1m 58¾s) from D.C. Cowan of Oxford.
Although using material from nine other contributors, mainly runners (plus one jumper and a hurdler), Graham writes all the chapters on the Field Events himself.  Perhaps he didn't know any other field-event athletes (with the exception of G.C. Vassall, the Long Jumper) who were good enough to contribute.  On the other hand Graham may well have considered himself to be a sufficient all-rounder to do it himself; we have records of him Long Jumping, and even Throwing the Hammer at the Jesus College Sports.  He even won the latter, but it is best that we don't record his distance!
Athletics of To-Day consists of twelve chapters -
I            p. 7                  Modern Athletics (an overview of the previous hundred years in athletics, and a review of athletics in the USA, and how "it has taken two nations to build up modern athletics as we understand them.")
II           p. 17                Training
                                     Materials
                                     Training
III          p. 26                Running
                                     One Hundred Yards Race (by C.R. Thomas)
                                     The Quarter-Mile Sprint (with extracts from the Yale Alumni)
                                     Half-Mile and Middle Distance Running
IV         p. 47                 Running (continued)
                                     The Mile Race by Alan Hunter
                                     Long Distance Running by W.H. Workman
V         p. 63                  Cross-Country Running by R.R. Conway
VI         p. 76                 Field Events
                                     Putting the Weight
                                     Throwing the Hammer
VII        p. 88                 Jumping
                                     High Jumping
                                     Pole Jumping
                                     Long Jumping (with contribution from G.C. Vassall)
VIII       p. 107               Hurdle Racing (with contribution from W.G. Paget-Tomlinson)
IX         p. 112               Athletics in London
                                     Athletics in the London Hospitals
X          p. 128               International Athletics
XI         p. 137              Starting, Judging, and Clocking Races
                                    Timing Races
XII        p. 148              Athletics in the Public Schools.
                                    Eton (by J. Edwards-Moss)
                                    Rugby (by E.L. Gay-Roberts and A.R. Welsh)
                                    (157 pages)
Bibliographic details:
(a) Ward, Lock & Co., Ltd. (b) G. E. Platt (c) Fowler & Wells Co.
(a) London (b) New York (c) New York
Date(s) of Re-Publication:
General Reference Collection MICA.A.7509. (13.)
"An Athletics Compendium" Reference: