A website dedicated to athletics literature

/ About Athlos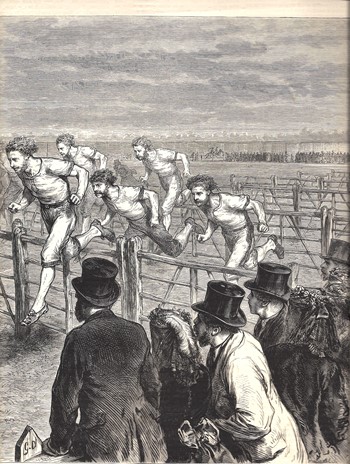 The word "ATHLETICS" has its origins in Ancient Greece and in its athletes who competed for prizes at various festivals. Our name – ATHLOS - reflects that ancient legacy.
Track and Field Athletics has a long and rich history and has been the central sport of the modern Olympic Games since they began. The origins and culture of Track and Field Athletics and the development of coaching, competition and performance can be traced in its literature. Our selection begins in 1800.
ATHLOS has identified and presents on-line the historic literature of Track & Field Athletics. In doing so it preserves and makes available many books that are already rare or hard to find; some only ever had a small print-run and many have never been re-printed. Some copies are so rare that they can only be found in private collections and libraries, so this is the first opportunity for many to read these historically important texts.
ATHLOS enriches its selection by providing a commentary on each work, plus a description of why each one holds an important place in athletics literature. A brief biography of the author(s) is included wherever possible. We hope that our collection will interest and inform our readers and that it will provoke new interests and new lines of research and scholarship.
We have scanned the original, primary material, so that each page has exactly the appearance it did when it was first printed. We have also used OCR to provide a word-search facility.
Where the athletics text was originally accompanied by text on other sports, only the athletics material is copied here, for ATHLOS is solely dedicated to the literature of Track and Field Athletics.
The idea of the ATHLOS website was conceived by Mr Tom McNab and Professor Peter Radford, two of athletics' most distinguished sports historians and writers.
Tom McNab is a Scotsman who has personal experience of some of the early events that were practised in the Highland Games and other traditional gatherings in his native country; where, as you will read, many of the field events originated. An international triple jumper himself, Tom McNab went on to become one of Britain's leading (and, professional) coaches, overseeing the development of numerous Olympic athletes. He is an acclaimed author and playwright and was technical consultant to the Oscar winning film Chariots of Fire (1981).
Peter Radford was an Olympic sprinter, winning the bronze medal in the 100m at the 1960 Olympic Games in Rome, and setting World Records for 50m Indoors, 200m and 220 yards. He was Professor of Sports Science at Glasgow University, Professor of Sport Sciences at Brunel University, and Executive Chairman of British Athletics. He also is an acclaimed author, having published numerous academic papers as well as the The Celebrated Captain Barclay (2001).
To form ATHLOS, Tom McNab and Peter Radford were joined by John Lister, MBE, a former international athlete for Wales, Council Member of European Athletics, a Chartered Accountant, and author of Athletics in the United Kingdom (2011), and by Dr. Neil Carter, Senior Research Fellow at the International Centre for Sports History and Culture at De Montfort University in England.
ATHLOS is in partnership with the British Library, which holds many of the books included on this ATHLOS website, and we are happy to acknowledge our gratitude to them and our other benefactors – the International Association of Athletic Federations (IAAF), the European Athletics (EAA), the Amateur Athletics Association (AAA), England Athletics, David Bedford OBE, and John Lister MBE.
ATHLOS is a registered charity and Tom McNab, Peter Radford, John Lister, MBE, and Dr Neil Carter, are the founding trustees.
The ATHLOS collection of books consists of titles dating from the early 19th into the 20th century, and will continue to expand and fill gaps as more material becomes available, until it achieves its objective of becoming the world's most authoritative source of historical archive material on Track and Field Athletics.
Many of these books are difficult to find and we are grateful to Peter Lovesey, Dave Terry and Stuart Mazdon for allowing us to scan books from their private collections; and to the National Union of Track Statisticians (NUTS) Library for the loan of one of its books. Books have also been provided by Tom McNab and Peter Radford.