A website dedicated to athletics literature

/ Fifty Years of Progress 1880-1930.
Fifty Years of Progress 1880-1930.
H. F. Pash (Hon. Editor). Fifty Years of Progress 1880-1930. The Jubilee Souvenir of the Amateur Athletic Association. 1930.
Author (Honorary Editor):
Herbert Foster Pash (or, H.F. Pash as he was usually known, but Bert to family and a few friends) was the overall editor of the A.A.A.'s Jubilee volume, and also wrote its longest chapter - "Fifty Years of Progress", pp. 31-61.  He also contributed much more besides, and it would have been a very slim volume without his contributions. 
For all the books in Athlos, we contribute notes on authors, editors, and contributors but these are almost always athletes, or ex-athletes, coaches, or administrators; and there has been little opportunity to look closely at that unglamorous member of the athletics family - the committee man.  H.F. Pash, however, gives us that opportunity, and this biographical note attempts to show how a committee man and A.A.A. Vice-President achieved such a position; and it views his life and achievements. 
Chelmsford in Essex was H.F. Pash's base; he was born there, went to school there, and was the son of a wealthy, respected, local businessman and philanthropist.  And Chelmsford and Essex remained his base all his life; he built his athletic and business careers there, and his social life too. 
H.F. Pash was very well known in Essex, partly through his athletics and partly because of his father, but he was very active in aligning himself with a variety of clubs and associations, and was well known as an easy to listen to public speaker.  Clubs and associations were very popular then, and it was usual after an athletics meeting for the hosts to put on a tea and even, sometimes, a formal dinner.  The main activity was often followed by a tea or dinner, when a toast to The Club or The Association, was proposed and seconded, with matching proposals and seconds from any visitors.  These were often quite long speeches, and H.F. Pash was in great demand to give them, having a humorous style, and also because he liked giving them.  His themes were often the values of sport, doing one's best, the importance of encouragement, loyalty, reliability, respectability, truth, and courtesy.  His was an establishment voice, but it was also a nostalgic one, longing for the world of his earlier years that disappeared during the Great War.  It was, of course, a very popular theme - the generations that survived the war were naturally nostalgic for the world they had lost - but he was popular because he was funny.  Take for example the story he told in 1928 to a London Athletic Club Dinner; "I am not aware," he said,
of any other club which can produce an athlete of over 50 who can run after a 'bus going at full speed
in Oxford Street, get on it, fall off it, retain his hat, his umbrella, and his Financial Times, escape death
from the on-coming traffic, lose a large quantity of blood, and, best of all, recover £7 10s. from the
Insurance Company.  I am really very nervous about the £7 10s. because I am of the opinion that I
obtained it by means of athletic exercise pursued as a means of pecuniary gain, so it is quite possible,
quite unwittingly, I have lost my amateur status!
His audience loved it, and admired his "pleasant wit" and they would all have known that under A.A.A. Laws, prizes were limited to 7 guineas (i.e. £7 7shillings) and that the £7 10shillings (above) was in excess of that.  And they would have admired his aplomb in making such light-hearted fun of himself.  But we don't get the joke until we know what his audience knew - that he was invariably seen sitting in the back of his car while his chauffeur negotiated the traffic (and the buses); his wife, who usually stayed at home, advertised periodically for a general help, or a cook.  H.F. Pash was not a man who had to resort to jumping on and off busses, so he could make fun of himself doing so, knowing his social position was so secure he could not be diminished by laughter.  Part of H.F. Pash's nostalgia was for a world in which society was run by its natural leaders, those with "social standing" and education; and he thought of himself as one of those natural leaders, able to take the world back to a world with pre-war values.  He prided himself on being progressive, but it was a very traditional and patriarchal sort of progressivism and, as the Labour Party grew in popularity throughout the 1920s and 30s, he was completely unable to understand its appeal.  How could anyone possibly prefer a union representative to someone like himself who had a "thorough business training especially in regard to finance and commerce"!  He believed himself to be a natural, and talented member of the decision-making class, with education, family, money, and social position.  We can see that confidence shining through all he did; what he didn't have was reticence, modesty, or any hint of uncertainty.
We get our first glimpse of him as a 12 year-old when he won a prize at his local Grammar School (King Edward VI Grammar School, Chelmsford), the first of several such prizes.  The following year we see him as an athlete for the first time when he finished 2nd in the under-13 100 yards, from which he learned two things that were to remain true throughout his athletic life - he was quick . . . but he was not quick enough.  He soon found that he wasn't good enough to race competitively over any distance with the best athletes, and he deserves enormous credit for not giving up.  He looked for competitions that he could cope with, and went back to his old school and ran in old-boys' races (in 1892/'93/'95), and in races with restricted entry, such as the 440yds at the Essex County Cycling and Athletic Club Sports in 1894 that was restricted to the residents of the borough of Colchester and Chelmsford only; and the City of London Schools' Sports at Herne Hill in 1895 that held a 1-Mile Handicap that was open to past pupils of public schools only; and Chelmsford Grammar School, somewhat unexpectedly, fell into that category.  He also joined clubs that held closed meetings and championships (i.e., closed to all but paid-up members of the club) and that obviously restricted entry greatly.  But this was the Golden Age of Amateur Sport, and one of Athletics' Golden Ages too, when there was an enormous range of athletic opportunities for everyone, and an enormous number of participants.  For example, H.F. Pash joined Essex Beagles and ran in their Carnival in 1895 when there were 44 entries in the Half-Mile Handicap alone (i.e. Essex Beagles had 44 members who wanted to run a half-mile on that day) - goodness knows how many half-milers they actually had!
In other competitions, the fields could be enormous and it seemed impossible to meet the competitive demands of the rapidly growing number of athletes.  For example, at the South London Harriers' September meeting in 1902 there were 97 entries in the 1-Mile Handicap and 52 in the 440; and in the same month, at the Great Eastern Railway Athletic and Cycling meeting, at, Leyton, the 1-Mile Handicap attracted 83 entries, 71 of whom actually started.  Almost all towns had an athletics club and held their annual sports, many of which included cycling events also; a vast number of events were packed into a single afternoon; open events, handicap events, 'local' events, events for children, usually with some jumping and throwing events and an occasional pole-vault, none of which were new to the crowds that flocked to see them, for almost all the events had penetrated into the schools.  But the real interest was in the running events.  On a typical Saturday afternoon in the 1890s and up to the First World War, tens of thousands of young men entered these sports and spent their free time preparing for the big day.  Looking back at it from the vantage point of the 21st century, the athletic performances would look a bit haphazard and decidedly 'amateurish' (which, of course, they were) but this was athletics on a mega scale, and we should marvel at those who brought it about. 
H.F Pash claimed that in his running career he had run in 600 races and won "many prizes" at 17 distances from 75yds to 10 miles, an extraordinary athletic career for a runner of very limited ability.  This might sound like a harsh judgement, and he would probably have taken issue with it, for he did have a long and enjoyable athletic career as a runner, but it was a career that was so different from anything possible in the 21st century that it needs explaining.
In addition to his old-boys' races and restricted-entry events, I estimate that 80% of Pash's races were in handicaps.  Handicap running was part of the AAC's grand idea when they created rules for the sport in the 1860s; there were championship events which pitted the best athletes against each other to decide the champion, and then there were handicap races that allowed athletes of all abilities to compete against each other but with the slower ones given a start over the better ones.  If the handicapper had done his job perfectly (but he never could) all the athletes in the race would all arrive together at the finishing line in a dead-heat, even though some (the back-markers) had run very much further than those in front of them at the start.  It proved to be a very popular form of local athletics, encouraging the less-able (or less-fit, or both) athletes to get involved in the sport, or to stay in it.  No matter how poor your athletic ability was, you (at least theoretically) had the same chance of winning as the athletic stars.  The handicap advantage that an athlete was given differed from meeting to meeting depending on the competition; in 1894, when he was 19, he was given 9 or 9¼yds in the 100yds, 15yds in the 220yds, 10 to 32yds in the Quarter Mile, 68 to 78yds in the Half-Mile, and 120 to 168yds in the 1-Mile.  In December 1894, in a 5-Mile Cross-Country Handicap race, he was given a 2½minute start (and finished 8th of 11 starters).  These are the distances given to beginners.  By the year 1900, his best year (when he was 25), he had improved, but his 100yds handicap was still 9 to 9¼yds; he was given 15 to 18yds in the Quarter Mile, 46yds in the Half-Mile, and 80 to 120yds in the 1-Mile.  H.F. Pash made his athletic career starting most of his races some distance in front of the better athletes, and he obviously liked it.
There was one outstanding exception, however; in 1900, in the Essex County Cycling and Athletic Association's Annual Sports, he won the 440yds and so became an Essex "County Champion."  For some reason, at that meeting, he gave his affiliation as Chelmsford Lawn Tennis Club.  He won his heat in 57 2/5s, and the final in 55 2/5s, very modest times even by the standards of 1900.  Despite his new status as a County Champion, he would not have considered entering the A.A.A. Championships that year for he knew that he would have had no chance of advancing past the heats.  In terms of ranking it is not at all certain that he would have been in the top fifty 440yds runners in the country, or even the top 100, and he never won another county title. The following year he entered the event again but was "hopelessly beaten" - his athletic annus mirabilis of 1900 was not to be repeated.
H.F. Pash was, however, immensely proud of having been a County Champion and he would use that title like a banner to wave for that rest of his life.  In 1901 He would give talks to schoolboys about his running days, telling them that when he was 11 he was knocked down at the start of the only race he was allowed to enter and was disconsolate, but a teacher picked him up and told him that he might win a race one day.  He "made a resolve", he told them, "to win a county championship one day" and, to his "great delight, did."  "Nothing", he said, "succeeds like success" and that "once one got to the top the spirit was there to urge one on to remain there as long as possible."  He always got a loud and enthusiastic response from the schoolboys, none of whom would know in detail what his achievements actually had been.  When he presented prizes he would inspire the recipients with a few chosen words - such as the time when he handed out the medals to those in the Essex County Championships for 10-Mile Walk, and Youth's 3-Mile Cross-Country, and took the opportunity to tell them how pleased he was that they had not changed since 1900, when he had won the 3-Miles, but, unfortunately, no record of that performance has been traced. 
He competed until he was 26 and announced that the London Athletic Club's Autumn Meeting at Stamford Bridge would be his last competition.  In his final race he was given 82 yards in the 880, and in the final he had a large lead until half-way down the home straight when three other runners passed him and he finished 4th.  It had been a long and curious athletic career, lasting 20 years.  Even at the time, however, it was something of an enigma, with one newspaper correspondent wondering why he won so little, and concluding that, despite his long handicaps, he had been over-rated and should have been given even longer ones!  It is said, however, that people are often taken at their own evaluation, and that certainly seems to have been the case with H.F. Pash.  People heard him tell of his successful athletic career so often that they simply accepted it as a fact.  When he died in 1945 the headline in the local paper was "GREAT RUNNER", a headline he would have loved, but it was a wild exaggeration.  H.F. Pash was a persistent club runner who avoided the best competitions and tried every event in an attempt to find one he could excel at - but never found it.
On leaving school in 1891 at the age of 16, he did not go on to university but was given an extended on-the-job management training with Strutt & Parker (Farms) Ltd., described as "the largest agricultural enterprise in the Eastern Counties", and an ideal way of learning the business so that he could in time take over the family business, which his father still headed (Joseph Brittain Pash, Ltd., manufacturers of farm and dairy equipment, fencing, etc.).
H.F. Pash was expected to make his mark in the world and his father certainly expected it.  The women in the family believed in education; his aunt (on his mother's side) had graduated from Girton College Cambridge and an older sister went to the university at Bangor in North Wales; but H.F. Pash's talents did not lead in that direction, nor, it seemed, was he to make a name for himself as an athlete, despite his liking for it.  The family money helped, of course, and when he was only 18 he got himself noticed by donating prizes for athletes to compete for at the Essex Beagles' August athletics meeting.  The following year he joined a small, new Cross-Country and Road-Running club (West Essex Cycling and Athletic Club) and did the same thing, donating prizes to be competed for.  In one of their competitions he won a butter dish - perhaps one he had presented!  It is not surprising that the club voted for him to be a "Sub-Captain" and they also gave him the opportunity to officiate; he started judging at cross-country races when he was still only 18; and when he was 19 he was voted onto the committee and, in gratitude, he continued to donate prizes. 
He also played tennis and even made it into the Chelmsford Tennis Club team; but it soon became clear that he was not going to make it as a tennis player either and he soon gave that up.  Joseph Brittain Pash was the President of Chelmsford Tennis Club, and the club met for committee meetings in a room paid for by him, so when, in their 1894 AGM, he proposed that his son take on the position of joint Hon. Sec., the meeting was bound to agree - only joint, presumably, because of his age and total lack of experience, although he had done shorthand at school.  His first duty was to advertise for a "Lad . . . to attend the ground"; imagine the sensation of advertising for "a lad" and asking for applications to be addressed to oneself, when still only 19 and not much more than a lad oneself.  The other "joint" half of the Hon. Sec. team did not last six months, after which H.F. Pash took over as Hon. Sec. in his own right.  He very quickly learned the power of writing to newspapers, particularly local ones who were hungry for copy, and he began to use them on a weekly basis, submitting items about the club, and himself, that they might otherwise have missed.  He wrote a lot about his role in the West Essex Cycling and Athletic Club (now renamed, West Essex Harriers), describing how their training runs were under his "guidance"; though what sort of guidance a 19-year-old inexperienced runner could give was never explained.  He wrote pieces to the Chelmsford Chronicle about his athletic successes, such as the piece that described how he lost by only half a yard in the Haverhill Athletic Sports' Half-Mile Open Handicap off 28yds, which, it said, was "virtual scratch".  Not all of these reports can be relied on however; "virtual scratch" is a tricky concept - in fact he ran off a 68-yard handicap! and for his efforts he won a "spirit Kettle".  No opportunity was lost to feed stories about his clubs or his athletic performances, or his work as an official, to the local papers, a skill he showed himself to be very adept at. 
H.F. Pash put himself into the public eye at every opportunity, and never missed a speaking engagement; he wrote to the papers regularly, and sought official positions in as many clubs and associations as he could.  He was voted onto the committee of the West Essex Harriers, and so was a member of the management committees of two sports clubs by the age of 19, and was Hon. Sec of his Old School club the following year.
His strategy remained much the same; he donated prizes, contributed to clubs' prize funds, and even donated a "magnificent one mile flat challenge cup" to the Essex County Cycling and Athletic Association - those present at their 1900 AGM gave him and his father a standing ovation (they were still meeting in a room that his father provided), and before the year was out he was a member of the Essex County Cycling and Athletic Association too!  He continued to place pieces in the local newspapers, spoke publically as often as possible, and continued to run, largely in club and handicap races.  He also joined other clubs, larger, more influential ones, and officiated in many competitions.  He also began writing; in 1902 he edited the Old Chelmsfordians' Handbook, the first of many such ventures.  Throughout his 20s H.F. Pash was so involved in amateur sport in all its guises, and spent so much time at it, it is hard to see how he had time to do anything else. 
It must have been his expectation to join the family firm, and eventually take it over, and he lived at home until he was 27 to be ready for that day; but his father showed no sign of relinquishing the helm, or of inviting his son to join the company even in a minor capacity, so he moved out of the family home and, to advance his career, he moved sideways in the Strutt & Parker organisation and became Private Secretary to the Hon. Edward Strutt, co-founder of Strutt & Parker. 
This was a turning point in H.F. Pash's life, but not the only one.  Another was a family horror in the summer of 1903.  H.F. Pash's mother, Sarah, was unwell and was staying in North Wales; there seems to have been family connections on Sarah's side in North Wales.  Ellen, H.F. Pash's older sister, older by 3½ years, had been a student at the University College of North Wales at Bangor and had received her BSc from there.  She was praised for her "great intellectual attainments", her mathematical ability, fluency in French, and mastery of German Phonetic shorthand.  She was also an enthusiastic follower of the Temperance Movement and was Hon. Sec. to the John Copland Temperance Society. 
After the Essex County Cycle and Athletics Assoc Champs in July (in which H.F. Pash ran the 1-Mile and finished way down the field, probably in 11th position), he and Ellen went to North Wales to see their mother.  They arrived on the Monday to discover that their mother was worse than they expected and on the Friday sent a telegram to their father in Chelmsford urging him to join them at Bangor.  At 10am on Saturday morning, however, when they visited her, they found her unconscious and lying in a pool of blood.  Ellen thought she was dead and immediately rushed out, hired a cab, and told the driver to take her to Anglesey; and once over the Menai suspension bridge to turn right toward Llanfair (i.e. Llanfair pwllgwyngyllgogerychwyrndrobwllllantysiliogogogoch) where the 27-metre (89ft) Marquis of Anglesey's monument stood.  She paid off the taxi a quarter of a mile before the monument and walked the rest of the way.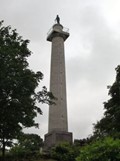 Once there, she opened the door at its base and climbed the 115 internal steps to the top: this led to a square cupola around the Marquis's statue, with 5ft railings around the outside edges.  Seizing the railing with both hands, she climbed over and let her body hang and stayed there for about two minutes, but then tried to climb back but without success: and then, still hanging by her hands, she let go and plunged to her death.  H.F. Pash arrived at the base of the monument just in time to see her fall, and fainted. 
Her mother, however, had not died; she had had a severe haemorrhage and recovered, dying one year later, still in Bangor in North Wales.  One year later, H.F. Pash married Adeline Beatrice Kennedy, the daughter of a north-country vicar from Westerdale, and soon added new themes to his public speaking repertoire.  Previously, typical themes for him had been about athletic values, and such titles as "truth without courtesy was better than courtesy without truth" but in 1909 he spoke at one of the meetings of the Men's League for Women's Suffrage and chose the title, "Fair Play for the Fair Sex", and followed it up with a talk on "Shall Women Have the Vote?" – but, as the issue became heated, he seems to have distanced himself from it, but continued to talk on other topics; and he must have been an exceptional speaker, for he was once described as having "the gifts of Ciceronian oratory."
His new job as Edward Strutt's Private Secretary seems to have had no effect on the amount of time he had to pursue his athletic interests, and his administrative roles in sport grew quickly; he acted as a press steward, dressing tent steward, competitor's steward, judge, handicapper, and Hon. Sec., and he also became a meeting organiser and promoter, arranging for star athletes to come to Essex, mainly Chelmsford.  He tried to set up a Road Walking Association but it wasn't successful.  In April 1909 came his big breakthrough and he was nominated as the Essex County Cycling and Athletic Association's representative on the A.A.A. Southern Committee, and was duly appointed (it is hard to say whether, following his nomination, he was elected, or was just appointed).  Almost at once he was appointed to one of the Southern Committee's sub-committees - the Incorrect Entry Forms Committee, which had four members and which sounds like one of the most unpromising committees to be on, but he was jubilant; it was his first foot-hold into the A.A.A. and he would continue to hold positions in it for the next 36 years.
H.F. Pash's work on the Incorrect Entry Forms Committee must have impressed for, a year later, at the 1910 A.A.A.'s A.G.M., he was elected as "one of the ten South of England Representatives" and put onto the committee "to consider and allot regional cycling champs".  This was a highly contentious issue, not to say an aggressive one, on the part of the A.A.A.  The annual athletics meetings that were held in towns, large and small, all over England often (usually?) held a few cycling events alongside the running events, tug-of-war, and a few field events.  The athletics events were held under A.A.A.'s Laws and the cycling events were held under National Cycling Union (NCU) Rules but the A.A.A. was a powerful organisation and wanted control of all the events at a meeting in which their Laws were applied.  In the case of tug-of-war this was easy as tug-of-war was considered part of athletics, but cycling was a problem, so the A.A.A. decided that the cycling events within the larger athletics meetings would be subject to A.A.A. Laws also.  This was an attack on the NCU's autonomy and authority, and even perhaps its very existence.  It was a hot potato for H.F. Pash too, for the meeting that he ran and which had brought him into prominence was the Essex County Cycle and Athletics Association's annual meeting, and he was their Hon. Sec. and representative.  But H.F. Pash knew where his future lay and in 1911 the Essex County Cycle and Athletics Association's Annual Sports were held under A.A.A. Laws only.  The issue did not go away that easily, either locally in Essex or nationally; two of the nation's governing bodies of sport were at war.  The Amateur Swimming Association offered to mediate, but the A.A.A. would have none of it and voted by a large majority to continue with their take-over of cycling events.  It was said that "A.A.A." stood for "Always Against Arbitration", and they were unpopular not only with Cycling but with many other Governing Bodies of Sport because of their perceived aggression and arrogance.
H.F. Pash attempted a lateral solution.  He was a significant member of the body that had initiated the conflict, but then also took an active part in the new Amateur Athletes' Union that was formed in Manchester; that it was hoped could be a vehicle to resolve the conflict that he (at least in part) was responsible for creating - a case of trying to run with the hares and hunt with the hounds.  He was described at the time as "a perfect genius in organisation" but the conflict had exposed a number of other unsatisfactory states of affair from the athlete's point of view: the value of prizes, particularly 2nds and 3rds, the problem of betting and non-tryers, dressing accommodation for athletes, and so on.  But the conflict continued with, eventually, neither of the governing bodies being on speaking terms with each other.
There was a strong authoritarian mood in the A.A.A. at this time and H.F. Pash fed into that perfectly as he was quickly seen as an enforcer who would push unpleasant things through.  The next year his action caused consternation, not with an outside body but among the A.A.A.'s own members.  He proposed that a new rule be added to the Rules of Competition whereby every athlete entering an event in any open athletics or cycling meeting in the country be sent, by post, a copy of the official programme not later than the day before the meeting.  The opposition started almost at once.  Sending every competitor a copy of the programme by post before every event would be costly and time consuming; small meetings did not have the finances or the man-power to comply with it, and letters of protest flooded into the A.A.A. offices.  The A.A.A. committee stuck to its guns however and refused to back down, but were forced to do so the following year when the membership voted it down.  Perhaps he was not such a perfect genius in organisation after all; indeed, it was almost the end of his A.A.A. career and he later wrote that, because of it, he "narrowly escaped elimination from the governing body"!
At this time, the A.A.A. were inevitably aware of the need to prepare for the Olympic Games in 1912, and they voted to consider various schemes but they were curiously low-key about it, and were already way behind The Sportsman that had alreadyquite well-developed ideas on the subject.  Instead, the A.A.A. were focussed on domestic and administrative issues, and seemed to be looking to fight unnecessary battles in their quest to be dominant.  For example, at the same time that the A.A.A. were attempting to take over much of cycling, and force organisers to post copies of the programme to all competitors, they also proposed that anyone taking part in an unofficial meeting either as a promoter, official or otherwise rendered himself liable to disqualification and suspension under A.A.A. Laws.  H.F. Pash was a strong supporter of all these measures
Throughout his work with the A.A.A. he continued to sit on their Southern Committee and at one stage was appointed to a committee to look into the standardisation of conditions and qualifications for county championships.  He also continued as the Hon. Sec. to the Essex County Cycle and Athletics Association, and wrote their annual reports; and he continued with the Old Chelmsfordians and had two spells writing their annual handbook too; but it was not all business as usual, and athletics and all normal life would soon grind to a halt.  Europe was sliding into war and on 4 August 1914 Britain declared war on Germany - less than six weeks after Archduke Franz Ferdinand and his wife had been shot dead in Sarajevo. 
Earl Kitchener asked for 100,000 men between the ages of 19 and 35 - or older if they were ex-soldiers.  H.F. Pash was 40, and not an ex-soldier, but, in May 1915 he entered a Volunteer Camp as part of the Chelmsford Company.  To keep up spirits and to develop fitness the camp held a Brigade Sports in which Private H.F. Pash ran, and won, the 75yds handicap.  It was his first race for nine years, but there is no record of what his handicap was.
The pattern of life that everyone knew in Britain shuddered to a halt; and in April 1915 the A.A.A. bowed to the inevitable and voted to hold no championships that year.  There would be no more until 1919 but, at the 1915 A.A.A. AGM, Percy L. Fisher resigned as Hon Sec after nine years and he was replaced by Harry Barclay who was a A.A.A. auditor.  This, therefore, produced a vacancy for an auditor and H.F. Pash was duly elected as one of them.  At a stroke, in the early months of World War I, H.F. Pash moved into the inner sanctum of the A.A.A.
His role in the war as a volunteer with the Chelmsford Company was only a part-time commitment, but his role as Private Secretary to the Hon Edward Strutt gave him an important role in the war.  In December 1916 David Lloyd George, a Liberal, co-operated with the Conservatives to oust Lord Asquith, the Liberal Prime Minister.  It split the Liberal Party, which never fully recovered, and all done under the pressures and anxieties of war.  One of the main tasks facing the Government was feeding its people and Lloyd George appointed Roland Prothero as President of the Board of Agriculture, with ministerial responsibilities and a seat in the cabinet.  Prothero then appointed Edward Strutt as Chief Agricultural Advisor and H.F. Pash, as Strutt's Private Secretary, later wrote that during the war, "we [i.e., Strutt and himself] sat in the room next to the Minister."  In recognition of these services, after the war, Edward Strutt was awarded the Order of the Companions of Honour, a new honour reserved for those who had given "nationally important service" and Roland Prothero was elected to the Privy Council; and was raised to the peerage as Baron Ernle, of Chelsea
As the end of war approached it was possible to think of sport again and in August 1918 Regimental Sports for the Devonshire Regiment and Essex Volunteers were held, and Private H.F. Pash of the No. 5 Essex Company entered the 100yds and finished 3rd; and a year later he was back at the helm attempting to get things back to the way they were, by organising the Essex County Sports at Southend-on-Sea. 
Nothing could go back to the way it was, however; there had been too many deaths for that, and there were loud cries for great social change.  Joseph Brittain Pash recognised that and, at the age of 80, resigned as chairman of his company; and (at last) H.F. Pash became Acting Chairman and one of three new Directors of Joseph Brittain Pash, Ltd., and was able to give up his post with Edward Strutt and concentrate on the family business.  Soon he would be its Deputy Chairman (1921) and, eventually, its Chairman (1927).
The A.A.A. picked up the threads as well as they could, as did their Southern Committee, and H.F. Pash set about his committee work once again; and once more began writing Annual Reports and accepting public speaking engagements.  In 1920 he was awarded a gold watch in recognition of his efforts with the Essex County Cycling and Athletic Association over the previous 18 years, and was voted in as Vice President. He was also elected as President of the Essex Cross-Country Association and his power-base expanded as he was appointed auditor to the Kent County Athletic Association.  The Olympic Games of 1924 came and went but Harold Abrahams and Eric Liddell don't appear in H.F. Pash's story; instead, we see him on a small sub-committee of A.A.A. Southern Committee inquiring into whether the A.A.A. should produce a booklet on Hints to Sports Meeting Promoters, and producing a memorandum on the personal liability of athletes.  "Limited", he pointed out, was omitted from the A.A.A. title by permission, but their liability was, nevertheless, limited.  Judges' enclosure at the finishing line also came under his scrutiny, and so on . . . 
His upward trajectory was now very rapid.  He became Chairman of the A.A.A.'s Publications Committee and in 1926 he became Hon Treasurer of London Athletic Club and President of Blackheath Harriers; and then, in his crowning glory to date, also in 1926, he was elected as a Vice-President of the A.A.A.  Also in 1926, his father died and he became Chairman and Director of the family business; but there is a somewhat forlorn note to be heard in an advertisement that his wife placed in the local paper at that time for "Domestic (General) help" capable of "plain cooking" for a "family of two".  H.F. and Mrs Adeline Pash never had any children.
With his new power he didn't feel the need to conceal his natural authoritarianism, and he knew that he was described as "the schoolmaster of the A.A.A." and made jokes about it; perhaps he even liked it, but it had been in evidence for well over twenty years.  It was on show in 1907 after an incident at the Essex Walking Championships when a section of the crowd showed their disapproval of the judges' decisions.  In response he wrote a long letter to the Essex County Chronicle in which he admonished the crowd, telling them that he expected better behaviour in the future - "we expect spectators to set a good example", he wrote.  He lectured the athletes, and warned them that if they ever showed any dissent in the future they would be "dealt with by the A.A.A." and then he threatened the crowd that if there was any repetition of such behaviour the walking championship would be "discontinued altogether".  If that was schoolmasterly behaviour, we must be glad that we did not go to his school.  At the same time he also objected to people making collections for charity, believing that it was "not appropriate"; and he was also suspicious that some athletes in the Essex Championships were not eligible, and vowed to weed them out next year.  He was always on the lookout for inappropriate behaviour; for example, if he saw an athlete in the middle of the track shouting encouragement to his friend, he would run across to him shouting "don't do that" and telling him that it constituted "assistance" and was contrary to the spirit of sport.  H.F. Pash clearly liked to be in control and to tell others how to behave.
In early 1928 H.F. Pash decides to stand for election as a Councillor for Chelmsford, North Division, and wrote to the voters telling them that he had energy, capacity, and courage, and was particularly qualified because of his 18 years in the City of London, where he had "a thorough business training especially in regard to finance and commerce" and because he had been "interested and involved in agricultural matters for 12 years".  He was duly elected and became a County Councillor on the Essex County Council for a three-year term; though turnout was poor, with less than 20% of those eligible voting. 
He was now a Man of Importance locally, and nationally, being a local County Councillor, and a Vice-President of the A.A.A., but he took up other, additional, positions regularly - he founded and edited the L.A.C. News, was President of Chelmsford Swimming Club and Vice-President of the Old Chelmsfordians, whilst still acting as auditor for several organisations.
It was almost inevitable that, as Chairman of the A.A.A. Publication Committee, he would be asked to be the editor of their 50-year celebratory "souvenir" but they left it very late, only appointing him at the end of 1929, with the celebratory year just around the corner.  To take on such a task when almost submerged with other committee work in umpteen other organisations was optimistic; shortly after being appointed to his role with the A.A.A. 50-year celebratory book, he was also appointed a Governor of King Edward VI School Chelmsford and, as a County Councillor, he was placed on the new Guardians Committee for the Chelmsford area as part of a new system to replace the old Poor Law - all responsibilities that were impossible to shirk.  Fate also intervened in February, when his 81-year-old unmarried aunt died (she was a graduate of Girton College, Cambridge, exceedingly musical, an excellent linguist, a good speaker and had been a missionary in India and Korea), involving him in additional and unexpected work; and three weeks later his ex-boss, the Hon Edward Gerald Strutt, died.  HFP was not only one of the chief mourners but, as his Private Secretary for 18 years, was called on to do some more unexpected work to help sort out some of Strutt's affairs.  Not surprisingly, in his Editorial to Fifty Years of Progress, he apologises that "unexpected circumstances" had appeared since he was appointed to the editorial role, making it impossible for him to "give the close attention" to the book that he should have done.  He did, nevertheless, write the longest chapter for it, wrote almost all of the anonymous sections, and created the tone for the whole thing.
I knew nothing of H.F. Pash before commencing on this exercise, save knowing his name.  Immersing myself in the details of his life for several months has, however, led me to some opinions about his life and work.  H.F. Pash was a man with many talents and an extraordinary capacity for hard work.  He accepted responsibility and never flinched from the work that it involved.  Although not included above (it would have made this summary even longer!) he was musical, and enjoyed being a member of singing groups; he was also an extremely able and popular public speaker, a good, clear writer with an enthusiasm for writing and publishing, and was passionate about amateur sport.  But it is also clear that from a very young age he wanted to be a Man of Importance; perhaps this was because he lived so much of his life in the shadow of his father, or perhaps it was just the way he was, but he never lost an opportunity to tell people about his achievements, often exaggerating them, and always highlighting them.  Much of what he wrote in Handbooks, Rule-Books, etc., was anonymous, but when he wrote something he was pleased with he would write to others telling them that he was the author.  We have seen, above, how he presented his modest athletic achievements as something far better than they were, but in almost every way he wanted people to know what he had achieved, and made himself his own publicist.  I have in front of me a copy of the Second Edition of the Fifty Years of Progress that he sent to an athlete in 1936; in it, on page 14, in his own handwriting, he adds this to his own biography -
& Life V.P. in 1934. 
He did the same under the biography of his friend A.S. Turk, but adds nothing for anyone else.  He wanted it known that he had added yet another honour to his long list - Life Vice-President of the A.A.A.
Knowing that he wasn't as good an athlete as he made himself out to be, is it too petty to wonder how good he was at anything else?  It is almost impossible to tell how good people are who volunteer their time in amateur organisations; often they are voted in by very small numbers of colleagues, and the organisations need their unpaid labour.  But there was an episode in 1937 that is illuminating.  He sued a car salesman but lost his case.  A key moment in the case emerged when he had to admit that he had signed a document agreeing the deal, but hadn't looked at it, let alone read it.  The judge wasn't impressed, but H.F. Pash attempted to defend himself by saying that he didn't need to read a document before signing it if he trusted that the other person was reliable; and so, in that case, he "didn't need to trouble himself by reading it".  Is it churlish to wonder what sort of administrator he really was?  Or is this just another reminder of how difficult it is to get into the mind of someone from an earlier age, or truly understand the age itself?
Herbert Foster Pash died in 1945 at the age of 70. 
Other Contributors:

| | | |
| --- | --- | --- |
|   |   |      pages |
| Lord Desborough         | Foreword                          |              3 |
| H. B. Stallard | The Value of Athletics |       59-60 |
| J. W.Turner | Athletics in the North |       62-66 |
| E. Machin | Athletics in the Midlands  |       67-72 |
| Arthur S. Turk | Athletics in the South |       73-78 |
| E. H. Pelling | Old Stamford Bridge |            78 |
| T. W. Higgs | Athletics in the Counties  |       79-84 |
| D. G. A. Lowe | Athletics in the Schools and Universities  |       85-93 |
| W. M. Barnard | A Review of the Financial Side of the A.A.A.     |     94-101 |
| H. B. Stallard | The Olympic Games |   102-104 |
| M. C. Nokes | The International Matches |   105-108 |
| W. W. Alexander | Cross-country Running  |   109-116 |
| W. W. Webb | Walking  |   117-122 |
The place of the A.A.A.'s "Fifty Years of Progress" in the history of Athletics literature:
The A.A.A. was one of the most important and influential governing bodies in world sport from 1880 when it was formed.  This history of its first fifty years was written from within the organisation, with eleven co-authors, representing different geographical regions, and athletic specialisms, and is unique; and is essential reading for those interested in the sport's history.  H.F. Pash, its Honorary Editor, made the point elsewhere that his chapter alone
meant going through all the Minute Books for fifty years, and selecting what seemed suitable for comment after this lapse of time.
So, this is a mixture of the historically objective, and personal selection, but will be invaluable to those seeking to understand the attitudes to the sport of athletics in England that were prevalent between World War I and World War II.  . 
Peter Radford / August 2019
The text:
"It has been stated with some authority that the situation was only saved by a dinner".  Thus reads the account, in this review of the first fifty years of the A.A.A., of that fateful meeting at Oxford's Randolph Hotel on April 24th, 1880.  There, Oxbridge and the products of the English harrier-system met to create the Amateur Athletic Association.
It is always dangerous to view the past through the prism of the present.  It is thus tempting to be over-critical of an organisation whose prime creators were driven by the initial impulse to confine it to men of their own class and even their own region.
It is therefore to the credit of the creators of the A.A.A. that, unlike their Oxbridge colleagues in rowing, they resisted this temptation, and with it the desire to exclude "artisans, mechanics and labourers."  By 1930, this was to result in an association of 900 clubs and 100,000 members, though few of them were devoted to track and field athletics.
This organisation bore little resemblance to its A.A.U. American counterpart, though the social composition of its leaders was similar.  But the college-based American system would be expressed, not primarily in road and cross-country competition, but in the fruits of a rural track and field programme brought to them in the late 19th century by Scottish immigrants.
The A.A.A., in track and field terms, merely regulated an irregular and uneven spread of summer handicap-based running meetings, signally lacking in field events. And in winter they presided over a college-based Oxbridge culture which reached its conclusion in May with the Oxford-Cambridge meeting.  That, and national championships, represented the bulk of the national track and field programme until the 1920s for most of their membership.
Strangely, at the heart of the formation of the A.A.A. lay rejection of the very culture which had brought track and field athletics into being in the United Kingdom in the first place. This was a primarily rural sports culture expressed by the Highland and Lakeland Games and pedestrianism.  The aim of the A.A.A. was "to keep amateur competition for those who go in for them as a sport, as distinct from those who, quite legitimately, take them up as a means of livelihood."
Here what was conveniently ignored was that rural sports and pedestrianism had never at any point offered even its most successful exponents a livelihood. That was a long way off. Paradoxically, it would ultimately be offered by amateur organisations a century later.
But the cut-off point was set at the acceptance of money and, in the creation of the modern Olympics, de Coubertin was to ignore the fact that most Greek athletes had been state-aided full-time professionals.  It would be over a century before a web of I.A.A.F. meetings would match the network of professional events that had crowded the Mediterranean coast two thousand years before.
"Fifty Years" makes it clear that vast energy in those early years was devoted to the definition of the "amateur".  Thus, in 1885, when the great miler W.G. George wished to compete in a match against the Scots professional Cummings, it was refused, even though George volunteered his share of the gate to charity.  Any contact with corrupt, tainted professionals was to be avoided at all costs.
For years there was to be a grim battle with the National Cycling Union, which offered money prizes at A.A.A. handicap meetings.  And anyone who earned money from another sport was banned from amateur athletics, as were swimming instructors and physical education teachers.
It is difficult at this distance to sympathise with an organisation which so agonised over the nature of their prizes.  Their maximum value was originally set at ten guineas (about £2000 at present values), but the A.A.A. could not bear the thought that their prizes might actually represent objects that anyone might possibly wish to possess.
Thus it was that initially any prize had to be able to take a brass engraving, indicating how it had been won.  Protests that arrived even from Oxbridge caused this to be swiftly abandoned. But there were still solemn discussions on whether the poor souls who chalked cues in billiard rooms were permitted to be amateur athletes.
"Fifty Years" has sections on every geographical area and also on schools, though here the emphasis was on the private sector, where athletics was not yet a summer sport.  The English Schools Association, created in 1925, is given little mention.  And, though women had been allowed limited entry to Olympic athletics in 1928 at Amsterdam, here their only appearance is in the contribution of the 800m. runner, H. B. Stallard.  "Women", he observes, "might well become pleasant companions" if they were exposed to athletics training and competition.
"Fifty Years of Progress" makes it clear that the first aim of the A.A.A. was to regulate the existing programme of rural handicap running-based meetings and to rigorously apply the amateur rules; that and the holding of a yearly national championships. And it was only after debate that these Championships were held in summer rather than as a conclusion to the winter Oxbridge college season.  Such was the early influence of Oxbridge.
The book's title is to a degree misleading, were it to be considered to be a description of a vibrant, progressive organisation, one from the outset actively dedicated to the improvement of all aspects of the sport.  We are, however, several decades away from that type of organisation but, in this, athletics was at that time little different from any other English sport.  It is, however, surprising that there is no mention of the Duke of Westminster's Report of 1913, its performance-based funds still presumably lying somewhere in the coffers of the BOA.  There is not a single mention of coaching, but it is worth observing that 1930 was to mark the first appearance of the Loughborough Summer School, under F.A.M. Webster.
Similarly, the A.A.A. had seen no need to reflect the entire athletics programme by requiring its handicap running meetings to include even a modicum of field events. In this it was no different from other UK governing bodies, and in Scotland the primary opportunity to compete in field events still lay in its Highland Games.  Indeed, it was only in 1938 that the Scottish A.A.A. included the triple jump in their national championships.
There were twitchings at international level, with the holding of the first Empire Games in London in 1930, but the main opportunities at this level had been in the Oxbridge events against Ivy League American colleges.
What we are witnessing in "Fifty Years" is the unstated conclusion of the Oxbridge era, its final official post-war reflection to be mainly expressed in a single representative, Harold Abrahams.  The A.A.A. had not been a balanced organisation, dominated on the one hand by Oxbridge and on the other by the conservative representatives of harrier-clubs perched on the outskirts of industrial cities.  So what had not been created in these first fifty years was a truly track and field  culture; and that legacy was to linger long into the 20th century.
Tom McNab / January 2019
1st and 2nd Editions:
The first Edition appeared at the end of April 1930 with a print-run of 2,000 copies.  Over 600 were sold at the A.A.A. Championships that year, and there was such a steady demand for copies thereafter that by the end of the year the supply was nearly exhausted and it was decided to issue a 2nd Edition in December 1930.  This provided the opportunity to revise some sections.  The 2nd Edition included -
                        - Revisions to World's Records passed by the I.A.A.F. in May 1930
                        - Revisions to records passed by the A.A.A. in October 1930
                        - Some corrections to the 1928 Olympic Games results, and
                        - an obituary of Percy L. Fisher (1906-1915).
Only the list of A.A.A. Publications is shortened, so the total number of pages remains almost the same.
The 2nd Edition did not fly off the shelves quite as quickly though, and it continued to be available from the A.A.A., who sent them out to friends and associates until at least June 1936.  For those who bought their copies, however, the cost of the 1st and 2nd Editions was 2/6d. (two shillings and six pence), equivalent to about £7.20 in 2019 values
Bibliographic details:
Fifty Years of Progress 1880-1930.
Amateur Athletic Association
General Reference Collection Mic.A.11298.(1.) [Microfilm]
"An Athletics Compendium" Reference: