A website dedicated to athletics literature

/ Athletic Training
Athletic Training
Michael C[harles] Murphy, Athletic Training, (ed. Edward R[ogers] Bushnell), 1914.
The author:
Mike Murphy was born in Westborough, Massachusetts, in 1861, the son of Irish immigrants.  With very little education he began to work as a shoe-maker, but by the age of 20 he was unemployed and went to Natick, about 15 miles (25km) away, looking for work.  Here he met Thomas Gavin who introduced him to sprinting.  Within days of his arrival, two professional sprinters (Phil McGowan and Buckley) arrived at Natick looking to set up a 100-yard match.  As a preliminary to the match Thomas Gavin arranged for Murphy, still in his street clothes, to have a run against Buckley and, to everyone's surprise, he beat him - whilst still wearing his jacket!  Murphy was put into training, acquired a pair of spikes (ordered from Philadelphia) and quickly became an 11-second 100-yard runner; but he was improving quickly.  Another professional sprinter arrived in the area, (Carlton, a 10-second runner), and a match was agreed using a mutual consent start, with $500 on Murphy.  Murphy got away the better of the two and Carlton "snapped a tendon in his leg" trying to catch him; and Murphy got his share of the winnings, cash in hand.  From that moment on Mike Murphy's life was one of sport. 
Two months later Carlton and Murphy met again, with his supporters "scraping together" $5,000.  This time the runners started back-to-back, and when two stones were hit together.  In the race, Murphy was well ahead and was moving steadily away when he put his foot on a stone and turned his ankle.  Carlton won.  There was no re-match, but Murphy had improved so much that he began to look for matches against almost anyone, and almost anywhere.  He became so good, he was reported to "frequently" run 9 4/5s, and "often", 9 3/5s; this was sprinting of a very serious kind (and better than the so-called 'records' at that time).  He began to look for matches out of state too and, on one occasion while training at Highlandville, Missouri, he and another sprinter (Nelson) began playing around with the idea of the crouch start, tumbling forward off their marks, and discovering that they could start faster that way.  Mike Murphy was still only 20, and the year was 1880.
At this time, six-day foot-races were the craze, and there was a lot of prize money to be won, so Murphy had a go in one of these and found that he could earn money doing that too, and so began travelling all over the USA taking part in them.  On returning home he began passing on his acquired knowledge to other local athletes, and guided them on their conditioning, diet, technique, determination to win, and abstinence from alcohol; and there sprung up around him, "a bunch of youngsters . . . that could lick the world in athletic competition."  John L Sullivan was also developing as a local strong man and boxer in and around Boston, 23 miles (37km) away, and Murphy gave him advice too, which also added to Mike Murphy's reputation; Sullivan was 16 months older than Murphy.  Looking for athletes to help, and for competitions to win and so make money, was Mike Murphy's world, and sport wasn't the only way to do it. 
At Natick there was a ladder truck company; there were many in the USA, set up as fire-fighting units to equip and train its members on the skills needed to enter a burning building, make holes in its roof for smoke to escape, and to rescue anyone who might have been caught in the burning building.  They were sometimes known as Hook and Ladder companies.  To hone the necessary skills, competitions were held in which teams battled it out to perform set skills against the clock and each other.  Mike Murphy and the young athletes around him were drawn to the Natick ladder truck company, and very quickly took it over.  Their first outing was in Beacon Park in Allston, a suburb of Boston, against Westborough, to whom they lost by 3 seconds.  The team of from 16 to 20 members (depending on the terms of the competition), included Mike Murphy - Edward S. 'Piper' Donavan - his brother, William F. 'Pooch' Donavan - Steve Farrell - Sid Peet - Keene Fitzpatrick - and Johnnie Mack, and they were spurred on by this defeat and committed themselves to being the best.  Eventually they did become the best, and became famous for their speed and success in competitions.  However, the New York Times wrote that they were, "not altogether a fire organization"; they were wrong, they weren't a fire company at all! - they were a competition unit only, set up exclusively to win competitions and the prizes that went with them  It was not technically 'sport', but it was very close to it.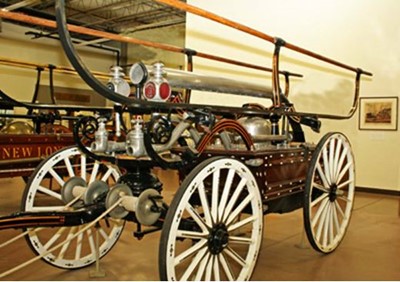 Once Mike Murphy and the rest had worked out who was the best in each position, their performances went something like this.  Most of the team stood in readiness at the start which was at the base of a raised platform on top of a scaffold the height of a building; when a pistol was fired, Piper Donavan ran forward to the ladder truck stationed 220 yards away; he had been a professional sprinter - claimed by some to be the best ever produced in the USA.  Two of the team were already on the truck to take charge of the steering, two others stood alongside its wheels, and another was in harness at the front of the truck but attached by a long rope.
The ladder truck had no motive power of its own.  Some were horse-drawn, and some relied entirely on manpower, but they were built to be as light as possible and in the competitions the team members pulled them, and then ran with them.  Once Piper Donavan had touched the truck, the two men on the ground could start to move it forward, while selected members of the team 220 yards away at the platform, raced forward to pull the truck up to the platform; they were led by Mike Murphy, Pooch Donavan, Sid Peet, Keene Fitzpatrick, and Johnnie Mack.
When they got to the platform, the task was to get a ladder off the truck, get the man in harness onto the ladder so that he could get to the top of it and then stand on top of the platform and raise one hand in the air.  That completed the task.  The Natick team, led by Mike Murphy worked out a way that did not entail their harness man climbing the ladder; he got himself onto the top of the ladder as it lay on the truck, and the team swung the ladder with the harness man already on top of it, up onto the top of the platform. When they got it right, he would land on his feet, and then put up his hand, signalling that the task was complete.  It was fast, athletic, skilful, daring, and spectacular; it was also a masterpiece of teamwork with every man knowing his job having been selected to be the best suited to do it.  Everyone in it depended on everyone else; and the stakes were high - if they were too slow they would lose, if they miscalculated the swing of the ladder, they could seriously injure their harness man, or perhaps even kill him.  No wonder the crowds came out to see them.
The Natick ladder truck team became so good that they could complete this task in about sixty seconds.  If Piper Donavan ran the opening 220 yards in, say, 23.5 seconds (Wendell Baker's World Record in New York in 1884 was 22.5s - but Piper ran in flats on the road) that would leave only 36.5 seconds to pull the ladder truck back up the 220 yards to the platform, and project the harness man onto the top of the platform under sufficient control for him to stand and put his hand up!  But in 1888, at the Worcester Cattle Show, one year after Mike Murphy had left them to go to Yale, the Natick ladder team broke all records and completed the task in 58 seconds!  Later, in a competition in New York, they ran 300 yards with a "hose carriage", whilst laying down "a good length" of hose, in 30.8s.  The Natick ladder team were obviously outstanding athletes, and Mike Murphy was acknowledged by all to be their leader. 
The Natick ladder truck team became something of a sensation, and competed for prizes of as much as $1,000 (this would have a purchasing power today of $25,000).  Buoyed on by his success, Mike Murphy established a training camp in Westborough for athletes of all sports, which was a hugely successful.  Inevitably, such success drew the attention of the athletic world, and in the autumn of 1886, A.B. Cox, a prominent Yale athlete (he was a thrower), stepped off the train at Natick, looking for Mike Murphy.  It resulted in Mike Murphy becoming Track Coach at Yale University in the spring of 1887 - not a "trainer", but a "coach", replacing Robert Winston, an English coach.  His first year was a big success, and Yale won the Intercollegiate Track & Field Championships; and records fell "with surprising frequency".  There had been other track coaches at American universities - Jim Lathrop at Harvard, and Arthur Robinson at Princeton - but Mike Murphy began a process which was to be described as "scientific", the first of its kind for US college athletes, and he soon became the standard against which others were measured.
He held the post at Yale University for two years before becoming coach to the Detroit Athletic Club, where he stayed for three years, but he only took up this post in the summer months, allowing him to also coach at the University of Michigan in 1891.  In 1890 he had also become trainer and coach to the New York Athletic Club, againa position that he held during the summer months only.  This arrangement enabled him to coach a university team in the autumn, winter and spring, and a club team in the summer.  He coached at the New York Athletic Club for ten years, but in that time he also coached for a while at Villanova University, and also went back again to Yale.  In 1895 he also held the post of coach and trainer at the University of Pennsylvania, where he worked for two spells, one of five years, the other of eight.  His employment at Yale was similarly in spells of a few years at a time; two, four and four. He was so successful everywhere he went that he constantly received offers from other employers and institutions; and those he had once worked for were always pleased to have him back.  At several stages in his career he juggled three jobs at once  or - more accurately - four, for in 1900 he took the University of Pennsylvania and New York Athletic Club teams to the Olympic Games in Paris (there was no USA team then), and in 1908 and 1912 Mike Murphy was coach to the USA track team at the Olympic Games at London and Stockholm respectively.
He died in 1913 at the age of 53 whilst still coach at the University of Pennsylvania and less than a year after returning from the 1912 Stockholm Olympics, a post he took whilst quite ill; and many thought that the effort and commitment of it shortened his life.  In 1913, when plans were being laid for the 1916 Olympic Games, he was again approached to be the coach of the US Olympic team again.  Mike Murphy was always in demand.
Mike Murphy was not a track & field coach only; he was a trainer and football coach and gave advice and encouragement to almost anyone, with the exception of cross-country, for which he had no time, and baseball.  Although not a natural football coach (i.e. he had not been a player) he analysed the game and developed new plays - which he claimed to have done while playing chess (a favourite pastime).  He suffered from deafness even as a young man and never came to grips with hearing aids; and this led to some of the funny stories about him, the things he misheard, or claimed to have misheard.  He had the reputation for being a practical joker, and a wit, but his practical jokes don't sound very funny now, and his wit and humour has not survived the process of writing it down, and the passage of time.  There is no doubt, however, that it was his personality and character that had a major effect on people and was the source of his outstanding success as a coach and trainer. 
After he died, those who knew Mike Murphy piled the most extravagant praise imaginable on him.  Pooch Donavan said of him that -
"The history of college athletic training is linked with the name of Mike Murphy.  To leave his name
 out would be like writing a history of the United States with George Washington left out, or a story
 of electrical science without mention of Thomas Edison."
Johnny Mack wrote -
"He possessed the remarkable faculty of communicating his force of will and courage to the youths
 in his charge; when first taken under his wing they looked up to him as a teacher.  Soon they accepted
 him as a father and bosom friend."
And Keene Fitzpatrick wrote that he had a, "gentle, tender, sympathetic nature", that he was "idolized", would "never be forgotten," and wrote, "future generations will know of him".  "Mike had a great control over the athletes in his charge", he wrote -
"They would do anything for him.  I have often seen athletes on his teams perform beyond their powers,
 and I have wondered if they were not making the supreme effort more for Mike Murphy than for the college
 or club they represented."
That Mike Murphy was a great motivator, there can be no doubt.  He called his athletes, "my boys", and his team talks were legendary.  In them he could, and did, make strong men cry.  On one occasion he told his team to go out and fight for their sweetheart, or for their sister, or for their mother, but if they did not have any of those, to go out and fight for Mike.  Even in the early days with the Natick ladder truck team he motivated them for a competition by asking them how their families back home would feel if they lost, and how they, themselves, would feel going home as losers. 
During a 30-year coaching career at the top, and having taken USA track teams to three Olympic Games, it is inevitable that his name would become associated with many great athletes - John Owen Jr, Alvin Kraenslein, Josiah McCracken, J.B. Tewkesbury, and Bernie Wefers, are just a few - but to understand Mike Murphy's success we have to recognise that he was essentially a team coach; not in the sense of team games, but in the sense that he plotted and schemed so that his track and field teams would defeat the opposition, a mind-set that he took into the Olympic Games too.  That is not to say that he was disinterested in personal success and glory, far from it; it formed an essential part of the whole, but its essential purpose was to contribute to a winning team, and to achieve that end he knew every trick in the book.  In football he would put up false team sheets to fool the opposition coaches; in the middle of a dry spell when he knew that the opposition coach would pick a team to run fast plays on a fast, true surface, he would flood his home pitch to make it a quagmire, and say that they had had a cloud-burst overnight.  He would put out stories that a player was injured and sent him out bandaged up so that the opposition would go for his weakness, whilst the real weakness was elsewhere, un-bandaged.  "All's fair in love, war and football", he used to say, but it wasn't only football; he thought that all was fair in love, war, running, jumping and throwing.  He was adept in his youth at tricking handicappers, and once, when he wanted a college long-jump competition to go with the wind but could not persuade the officials to agree to it, he had the other long jump pit dug up with a pickaxe, so that the competition had to be done the way he wanted it.  On another occasion when he travelled away with a team that had no good shot-putters he secretly rolled all the shots in the stadium into the river so that the shot-putt competition had to be cancelled.  "He was always pulling something on the other trainers", wrote Steve Farrell.
Mike Murphy was a driven man.  John Moakley described him as "intensely ambitious" and "the least able to reconcile himself to defeat", and that "he worked on the theory that he must win all the time"; and from the above evidence, any way would do so long as he won.  His friends, and those who benefitted by his tactics, loved him for it but there must have been many who didn't.  Mike Sweeney (the high jumper) wrote that those on the other side of a contest thought, "that he was not a man of ideals," which seems like something of an understatement - unless, course, you shared his ideals.  He was also described as "intensely secretive". 
Perhaps the one essential key to unlocking the personality of Mike Murphy is to recognise that from first to last he was an Irish-American-Catholic.  The Natick ladder truck company was an Irish-American company.  Those in it were his life-long friends.  His success brought him great power, and he personally recommended many of members of the Natick ladder truck company, who were his friends, and fellow Irish-Americans, to positions at various prestigious universities.  Pooch Donavan became athletics coach and trainer at Harvard, Keene Fitzpatrick became athletics coach at Princeton, Tom Keane became coach and trainer at the University of Syracuse; John Moakley became coach and trainer at Cornell; Steve Farrell became athletic coach and trainer at the University of Michigan - all, personally recommended by Mike Murphy; and Johnny Mack succeeded him at Yale.  With Mike Murphy's personal support and encouragement, Irish-American coaches became a dominant force in track and field in the USA.  When Mike Murphy died, the Boston Sunday Post commissioned major articles to illustrate his life, and they ran for seven weeks, all of which were written by Irish-Americans, and it is largely from them that the reputation of Mike Murphy derives.
It is possible to see his Irish-American-Catholicism in everything he did - his friends, his loyalty, and his expectations.  Stories were told about his generosity and how he financially supported a financially needy athlete through college; but, once again it was another Irish-American, Tod Murphy.  Mike Sweeney (the high jumper) tells of how Mike Murphy would lecture athletes -
"on the value of prayer and of not being ashamed to kneel, to pray or read the Bible before going to sleep
 . . . After the talk I saw men whom I thought never prayed get up from their cots and kneel down, and
 others go to their suitcases and take out their Bibles which were neatly hidden away." 
Mike Murphy was an Irish-American to the core, and an inevitable part of that was his attitude towards the English.  He mocked Tom Keane when he was offered the job of coaching Britain's 1912 Olympic team, saying that, "it will take you 15 years to build up a team over there, for you will have to start from the very ground."  He didn't even like the way Englishmen spoke, saying, "Englishmen speak the language with an accent and you can't understand them". He said, "only Americans and Irishmen speak English correctly."  This should not be dismissed as banter, or century-old humour, as Mike Murphy had drunk in the anti-English rhetoric of the Irish immigrants since his infancy, and he was surrounded by it all his life.  One of his great athletic successes was in 1895 when he was the coach to the New York Athletic Club that trounced London Athletic Club, winning every event; it was a particularly sweet victory, but even in the midst of such a comprehensive win he could not shake of his personal dislike of Capt. Shaw and the other English officials.  Before Mike Sweeney's final jump Mike Murphy went over to Sweeney and tried to motivate him in his usual style, referring to a previous jump on another occasion - "You know these Englishmen don't believe that you broke the record and this will be your only chance to prove it."
After the event, when Sweeney had broken the record again, Capt Shaw and the other English officials roused the wrath of Mike Murphy even further by going to the bar and measuring it again.  But perceived slights and insults are one thing, real slights and insults might be something else entirely.  After they had carefully measured the bar, the English officials called over the referee, Father Bill Curtis, and pointed out that the 6'5" that the officials had credited Sweeney with was an eighth of an inch too low - Mike Sweeney had actually jumped higher 6'5 1/8".  Mike Sweeney called them "Good sports" for that, but there is no record of what Mike Murphy said of them.
Great as the Irish-American influence was on American Sport and on track and field in particular, it also had a poisonous effect.  The Irish-Americans were staunchly anti-English in everything - and it was based on politics not sport.  From the mid-1880s Irish nationalism was a growing force in Ireland.  The Irish Republican Brotherhood demanded the repeal of the Act of Union between England and Ireland.  Through the 1880/1890s support for the Brotherhood grew until they had 85 members sitting in Westminster.  They proposed Home Rule Bills in 1886 and 1893, but both bills were defeated.  In 1905 Sinn Fein came into existence, calling for unilateral action and for Irish MPs to withdraw from Westminster and establish their own parliament in Ireland.  British rule, they argued, should simply be ignored.  Irish-Americans not only sided with the Irish Republican Brotherhood and Sinn Fein, but they supported them financially too.  To Irish-Americans, the English were the enemy.
The intensity of the Irish hatred of the English can be seen clearly in the 1908 Olympic Games.  There, Mike Murphy's anti-Englishness was joined by that of James E. Sullivan's, the secretary of the USA Olympic Committee; he too, of course, was an Irish-American. 
Both James E. Sullivan and Mike Murphy considered the London Olympic Games of 1908 as a USA v. England match, and as only GB teams took part in the Olympic Games (i.e. not England) they considered GB to be the equivalent of England.  During the two weeks when events went on in the main stadium, James E. Sullivan lodged protest after protest, at the rate of at least one a day.  He saw injustice and incompetence around every corner, and was convinced that the USA athletes were being singled out.  The English officials, he believed, were conspiring against, and targeting American athletes - an opinion that would find ample support for from Mike Murphy.  Sullivan's attack was not only extremely hostile, but pointedly personal. On his return to the USA Sullivan wrote -
"The victory of the American team at the Olympic Games was undoubtedly the greatest in the history of
 Amateur sport in the world, when it is taken into consideration the handicaps the members were subjected
 to.  I do not wish to criticise British sportsmen generally, for there are many fair minded people among them,
 but I want to make it as strong as possible that the attitude of Messrs: Davidson, Andrews, Fischer, and
 Dr Bulger, the English Officials of the games, was not only outrageous to Americans, but contrary to their
 own rules, and if these men continue to dictate affairs, England will become athletically degenerate."
By naming names, Sullivan made the issue personal, but it was personal for Mike Murphy too.  After the notorious 400m Final, Murphy said that,
"I have been up against the English officials for years, and it has always been the same story. They would
 have robbed us of everything they could."
Note here, that he did not say, "athletes have been up against the English officials for years", but "I have been up against them, etc." 
He then went on -
"It proves what I have always said, that these English officials will do anything to prevent an American,
 or anybody besides their own people, from winning a race.  If I had my way, every American athlete at
 that stadium would leave here right away and never return, either to this arena or to England."
But on this, Mike Murphy only got his own way in that the American athletes would not take part in the re-run final. 
It is always difficult to assess the merits of an emotive issue after the event, and when one is not privy to the passions that ran so high at the time.  Was the behaviour of the officials "outrageous"?  Were the American athletes "robbed"?  To believe so one has to disbelieve the written description of the incident by Windham Halswelle, the athlete at the centre of the storm, the actions and subsequent written statements of the three officials whose job it was to adjudicate on the race, plus another official on the home straight who stepped onto the track with his hands up, like a policeman on traffic duty, to stop the runners from finishing the race, plus the large crowd that shouted and booed at what they saw, and the eye-witness reports of the journalists who reported it in the newspapers.  Was there an anti-American conspiracy that included the athlete at the centre of it, the officials, the crowd, and the media?  Were they all subject to some form of mass hallucination? 
As often as Sullivan and Murphy criticised the English officials for cheating, the British press and commentators criticised the American athletes for being bad sportsmen and displaying poor sportsmanship; the Olympic Games of 1908 had exposed a major gulf between the British and American attitudes to sport, and Mike Murphy was at the heart of it.  To Mike Murphy, the whole point of being involved in a sporting contest was to win.  It was his great contribution to sport - college, club and international sport.  Winning was everything, and it is easy to see just how old-fashioned and ridiculous were the views of gentlemen amateurs from Britain who still (at least in some measure) believed that sport served another purpose besides merely winning.  Mike Murphy's attitudes were the new way and were to lead to such sayings as, "winning isn't everything, it is the only thing", and "beating team X isn't a matter of life and death - it is more important than that."  The debate about whether that is right, and in the long run good for sport, continues to this day.
At the time, Mike Murphy was said to imposed a heavy physical workload on athletes, harder than his contemporaries, and he also used extra training as a punishment; and he would not allow alcohol, and the elements of extra training and the absence of alcohol might, alone, go a long way to explain his success.  To that he added an uncanny ability to size up an athlete and see his potential; but he was not a creator of athletes.  One newspaper wrote that, "his primary faculty was the taking hold of a fairly well developed athlete, polishing off whatever rough corners remained and turning out the finished product".  If that was intended as an insult, his friends did not think it was; John Moakley thought that it summed up the case "very accurately."  Mike Murphy had a great skill in getting athletes ready for a big competition - almost any athletes.  He was not a technical innovator, except for the crouch start, and not even his best friends claimed that he had anything new to say, or had any particular insights into technique, but he was, nevertheless, always looking to increase his knowledge.  Whilst a coach at the University of Pennsylvania, he took a two-year course in medicine and surgery, to increase his knowledge of the human body and how it worked; and after it, one friend wrote that, "more than one physician has testified to the fact that Mr Murphy knew the human body, its possibilities and needs, as they themselves."  Strangely, however, there is little in his written work that reflects this knowledge, and his ideas on respiratory physiology sound very odd to modern ears.  In the summer of 1910 he went to see Jack Johnson and Jim Jeffries as they trained for their great heavyweight title fight. 
"I saw Johnson training and noticed that when he got tired he could take a long full breath to fillhis lungs
 with oxygen and be as good as ever.  Jeffries could not take that full breath and revive.  In other words,
 he could not get his second wind," he said.
To further explain this idea of Murphy's, Thomas Gavin wrote.
"Mike was strong in the belief that an athlete properly trained should be able to take a full breath at any
 stage of his contest and be in shape again.  You seldom saw his men running them-selves out and after
 crossing the tape fall in a faint.  He believed in training them so that at the finish of a race they could fill
 their lungs with air and be immediately revived."
Nevertheless, Mike Murphy was extraordinarily successful, and his success seems to have come from the force of his personality and his powers of communication.  He saw potential in athletes who did not even see it in themselves, and he made them believe in themselves and they loved him for it.  He had an unusual ability to motivate athletes and to get them to drag out of themselves performances that surprised even themselves.  He taught them that in life, as well as sport, they had to be winners, and that they carried the weight of their families, friends, team mates and communities with them; but that weight did not bear down on them, it was a force to lift them up.  Even when his college athletes were leaving him to go out into the wider world, his main advice was almost entirely about winning, mental strength, and never giving in.  Tom Keane reported that Mike Murphy's six golden rules were -
1.        Never admit defeat.
2.        A man can't be licked who won't be licked. Neither will a team be defeated if they make up their minds
            that the other side can't whip them.
3.        It's the mental attitude that wins games.
4.        Fight squarely, but always harder than the other fellow, and work while he sleeps.
5.        Don't mind the scratches or little bruises.  You will get many a bump before you die.
6.        Don't drink. I never saw an athlete who amounted to anything in after life who drank during his college career.
In his own life, Mike Murphy made up for his early lack of education with copious reading, and he was said to be particularly fond of Honoré de Balzac.  One friend wrote of the, "depth of his intelligence", and his, "sharp-cut individuality", and observed that Mike Murphy "followed no type", but he was also described as "feisty", and although extremely loyal to his friends, and they to him, if he didn't like someone, he let them know it, and then would never have anything more to do with them. 
He died on June 4, 1913, after battling tuberculosis for two years and while he was still athletic trainer and track and field coach at the University of Pennsylvania, and he left an indelible mark on the world of track & field athletics, and on American college sport. 
After his death Tait McKenzie wrote of him -
"Small and slight in body, his courage was gigantic.  Nothing daunted him.  His positive manner and
 assumption of invincibility were the chief sources of power to him.  He could impart to others that
 invincible courage and dogged determination that he himself used in his struggle against a delicate
 constitution and increasing infirmities."
In his early 20s, Mike Murphy married Nora Long and they had three children; Mabelle (b. 1893); Charles Thorne Murphy (b. 1895), [who was named after Sam 'Brink' Thorne, a slick-running Yale half back during their extraordinary run of 39 games and 1 defeat] who was an all-round athlete and played quarter-back for Yale, and was captain of their Freshman team, and was an All-American College Quarterback in 1917; George Lloyd Murphy (b1902), who also went to Yale, but dropped out in his Junior year and, after a variety of jobs, became an actor and song-and-dance man on Broadway, and appeared in over 40 Hollywood movies from 1934 to 1952, alongside such luminaries as Shirley Temple, Judy Garland, and Fred Astaire.  He later became president of the Screen Actors' Guild, and President of the Technicolor Corporation.  He moved into politics in 1953 after arranging entertainments for the Eisenhower-Nixon administration, and was elected to the US Senate as a Republican, where he served for six years, becoming a close friend of Ronald Reagan.
The Editor:
Edward R[ogers] Bushnell was born in Nebraska, USA, in 1876; he was a middle distance runner in one of Mike Murphy's track teams at the University of Pennsylvania; indeed he was one of the best, winning the Intercollegiate 1-Mile title in 1900, and running in the 1900 Olympic Games 800m final, and the 2,500m Steeplechase Handicap.  He was also captain of cross-country at the University of Pennsylvania, and heavily involved in U of P journalism and promotion, being Director of Publicity and Graduate Manager of Athletics.  He also wrote and compiled, "The History of Athletics at the University of Pennsylvania: a Complete and Illustrated Account of What Pennsylvania has Achieved in all Branches of Sports, with Full Statistics of all Athletic Meetings from the Earliest Date", (Philadelphia, Pa: The Athletic Association of the University of Pennsylvania, 2 volumes, 1901).  In 1908, Bushnell accompanied the US Olympic Team to London, as their official photographer. 
The place of Murphy's "Athletic Training" in the history of Athletics literature:
During his lifetime, Mike Murphy was the most successful Track & Field coach in history, and was always in great demand, and was idolised by those in his circle.  He had already written "College Athletics", as part of the Spalding's Athletic Library, (New York: American Sports Publishing Co., no date, but from internal evidence, published sometime after October 1905), but this was a fairly light-weight publication, costing ten cents, and with 50 pages of text and 64 pages of advertising.  Those around him believed that as part of his legacy he should write a book which would reveal the unique depth and range of his knowledge, and so share it with the world.  Edward Bushnell, one of his ex-athletes, and publicist for the University of Pennsylvania, was prominent among those who tried to get Mike Murphy to write a more weighty book, and under that pressure, Mike Murphy started writing it shortly after arriving back home from the 1908 London Olympic Games.  Tait Mckenzie wrote of Bushnell "practically forcing him [Mike Murphy] to put down his ideas from time to time".  However, it was still not finished in 1913 and, by then weak with tuberculosis, Mike Murphy began dictating the remaining sections to Edward Bushnell.  Mike Murphy, however, did not live to see his book published and Bushnell had to supervise the production of the final manuscript and do the final proofreading. 
Edward Bushnell describes it as "the legacy which Michael C. Murphy has left to the boys and young men of America, and, indeed, the whole athletic world."
The text:
If Mike Murphy's "Athletic Training" fails to live up to its billing it may well be because he pitched it at an age group that required only basic information and broad brush-stroke advice.  In his introduction he refers to the need for boys under 16 to "play at athletics" only, that 12-year old boys "should not be allowed to run further than 220 yards, and that not very often", and that boys of 16 must "guard against the tendency to train too hard".  Although a supporter of athletics for boys of 10 to 16, he told them that they must not train hard or too often; champions, he wrote, began their serious training, "on or about their eighteenth year".  This is a book for the "boy or young man" at "schools and small colleges" without a coach, and so this is not the place for the advanced ideas he must have had, or the "science" and "psychology" of coaching with which his name was so often associated. 
It was, of course, a very different sporting world from ours.  If we need to remind ourselves of just how different the world was for athletes in the first decade or so of the 20th century, then we probably need go no further than this -
"If running against the wind in very cold weather it is best to protect the chest with a piece of newspaper
 or brown wrapping paper." (pp. 71-2)
This was a world without tracksuits or sophisticated fabrics with advanced thermal qualities.  It was also a world without 'trainers' or 'sneakers', though he does recommend "tennis shoes" on one occasion.  He described one of his programmes for 300 men and boys who, "ran on the streets in all kinds of weathers" from January to March wearing -
"an old pair of street shoes, a long pair of woollen stockings, a pair of old trousers cut off below the knee,
 an undershirt, sweater, and cap." (pp. 62-3)
There are three introductions; one by Mike Murphy himself, another, longer one, by his editor, and one by R. Tait McKenzie, MD, physician, and sculptor, and Professor of Physical Education at the University of Pennsylvania. 
The book has twenty-one chapters and covers all the running, jumping and throwing events on the Track & Field programme of Murphy's time, plus Marathon, (but not triple jump, or steeplechase).  We learn incidentally, about the unpopularity of the 4x100m in the USA, and how some rules have changed - of the "balk line" in the LJ and HJ, and the introduction of the relay baton to relay running in 1912.  But mainly we get a chapter on each event, plus chapters on "the athletic heart", "injuries, their prevention and treatment", "diet", and "physical conditioning".
The longest chapter by far is on sprinting, reflecting Mike Murphy's own background as a successful sprinter; despite the wide range of his success he was always at his best when coaching sprinters, and the crouch start was his great innovation, discovered when he was still a young athlete.  There is something about his writing on sprinting that is absolutely convincing; when he writes giving advice to the young sprinter about learning to "swing through . . . at almost one's best speed" and to "maintain a stride that will carry him over the ground just as fast as though he tried all the time", you know that he knows what he is talking about.  Often though, he tells the young sprinter what to do, but not how to do it.  The above is a good example, it is as if he is telling the young sprinter that there is something out here to be discovered, and to go out and find it for himself.  It is an athlete-centred approach to coaching, rather than a technical one.  He deliberately does not tell the athlete what to do, he does not instruct; instead, he suggests, guides, and motivates.  "No two boys are alike", he wrote.  He also asks the young athletes to watch other great athletes and to follow them. 
He does it over and over again - in the long jump, the young athlete is told about the "scissor kick" in which it looks as if the jumper is "taking a step in the air"; Roy Mercer did this, and so did Myer Prinstein who gained a foot by doing it.  Kraenslein, however, didn't, neither did Gutterson, but they were just as good.  In the High Jump, he writes, "style is pretty much a matter of individual taste", but some of the champions had styles that Murphy thought were "not suited to the average boy"; nevertheless, he advised his readers to -
"study closely the form of champions at every opportunity.  Seeing how another man does it will often
 be of more help than printed directions. 
But he still guided them into experimentation and finding out for themselves by first finding out how to take off and land on the same foot.  
In event after event, he gives what appears to be simple, homespun, often, apparently obvious advice.  In the High Jump - "throw the entire body up to and above the normal level of the head, and then get the body across the bar without touching it".  In the Long Jump - "the greatest care should be taken to learn what is the proper speed for the athlete to get the right elevation.  If the jumper runs too hard he cannot get into the air and secure the maximum distance to his jump. Running too slow is quite as bad."  In the Javelin Throw - "A little practice will show the athlete the point from which he should start his run," and so on. 
Mike Murphy's plan in writing each of the chapters which covered a particular event seems to have been to cover four main areas - a basic description of the event - advice on how to approach the event and how to develop - what the best athletes did - and constant reminders not to do too much.  After I had noted a dozen references by Murphy to the dangers of training too hard, too long, too often, or too soon, I gave up - the book is full of them.  It is something of a surprise coming from a man who had the reputation for being a hard task-master but his, clearly, was an altogether gentler age than ours. 
Perhaps oddly, considering the towering achievements of Mike Murphy, Athletic Training was not the source of inspiration to future generations of coaches that one might expect.  It is not full of insights into technique, or "science", and it was not referred to reverently by future generations of coaches; nevertheless, Mike Murphy's methods were immensely successful, and he was adored by those he coached; not, it seems, from what he told them to do, but for how he inspired them to find in themselves talents and abilities that without him they would never have discovered for themselves.
There are 32 pages of photographs giving images of well over 100 athletes in training, competition, or posed portrait shots, many full-length.  Several include images of Mike Murphy; a head and shoulders portrait is used as frontispiece. 

Peter Radford  / October 2015
Bibliographic details:
Michael C[harles] Murphy, Athletic Training, (ed. Edward R[ogers] Bushnell), 1914.
Date(s) of Re-Publication:
London: Bickers & Son - 1914; New York: Charles Scribner's Sons -1918, 1920, 1921, 1926; Berlin: Trenirovka v legkot atletike - 1920.
General Reference Collection Mic.A.10911(1)
"An Athletics Compendium" Reference: